01.12.2018 | Research article | Ausgabe 1/2018 Open Access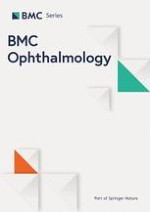 Comparison of hyperdry amniotic membrane transplantation and conjunctival autografting for primary pterygium
Zeitschrift:
Autoren:

Xin Pan, Daguang Zhang, Zhifang Jia, Zhehui Chen, Yuetian Su
Abstract
Background
The purpose of this study was to evaluate the safety and effectiveness of the hyperdry amniotic membrane transplantation compared with conjunctival autografting for the treatment of primary pterygium.
Methods
One hundred and forty-one eyes from 130 patients with primary pterygium were treated with excision followed by hyperdry amniotic membrane or conjunctival autografting after random selection. Seventy-nine eyes from 71 patients received hyperdry amniotic membrane transplantation (HD-AM group), and 62 eyes from 59 patients received conjunctival autografting (CG group). Patients were followed up at one week and one, three, six, and 12 months post-surgery. Recurrence rate, postoperative complications, and final follow-up patient visits were prospectively evaluated.
Results
The mean follow-up duration was 12.56 ± 4.35 months in the HD-AM group and 12.85 ± 3.90 months in the CG group. Recurrences were detected in four eyes (5.06%) in the HD-AM group and 13 eyes (20.97%) in the CG group. A statistically significant difference in frequency of recurrence between the two groups (
P
 = 0.003) was observed. The cumulative non-recurrence rates at six and 12 months in all patients stratified by age and sex were not significantly different (
P
 = 0.642 and
P
 = 0.451, respectively, by log-rank test). Graft retraction and necrosis were not detected in the two groups during the follow-up period.
Conclusion
Hyperdry amniotic membrane transplantation was effective in preventing pterygium recurrence when compared with conjunctival autografting and can be considered a preferable and safe grafting procedure for primary pterygium.
Trial registration
Current Controlled Trials
ISRCTN16900270
, Retrospectively registered (Date of registration: 3 May 2018).