01.12.2019 | Research | Ausgabe 1/2019 Open Access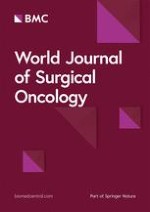 Comparison of intracorporeal and extracorporeal urinary diversions after laparoscopic radical cystectomy in females with bladder cancer
Zeitschrift:
Autoren:

Liyuan Wu, Feiya Yang, Liming Song, Zejun Xiao, Sujun Han, Song Wu, Sai Liu, Qingbao He, Nianzeng Xing
Wichtige Hinweise
Publisher's Note
Springer Nature remains neutral with regard to jurisdictional claims in published maps and institutional affiliations.
Abstract
Purpose
To compare the peri-operative outcomes of females undergoing laparoscopic intracorporeal urinary diversions (ICUD) and extracorporeal urinary diversions (ECUD) after laparoscopic radical cystectomies (LRC).
Patients and methods
Thirty-eight females who underwent LRCs and urinary diversions from February 2008 to October 2018 were divided into two groups: the ECUD group (19 patients) and the ICUD group (19 patients). We retrospectively analysed the patients in terms of patients' demographics, peri-operative outcomes, and oncological follow-ups.
Results
There were significant differences in the mean operative times between ECUDs and ICUDs (364.6 vs. 297.1 min,
p
 = 0.007), transfusion rates (37% vs. 5%,
p
 = 0.042), time to flatus (5 vs. 3 days,
p
 = 0.020), time to ambulation (2 vs. 1 days,
p
 = 0.022), and duration of postoperative hospital stays (22 vs. 13 days,
p
 = 0.002). The mean lymph node yield was 12.9 in the ECUD group and 18.6 in the ICUD group (
p
 = 0.140). Seven out of 19 patients (37%) in the ECUD group and 6 out of 19 patients (32%) in the ICUD group had positive lymph nodes (
p
 > 0.9). Two out of 19 ECUD patients (11%) and 4 of 19 ICUD patients (21%) had positive surgical margins (
p
 = 0.660). Although there were no differences in major complications at 30 days and in all complications at 90 days, the Clavien grade II complications were significantly different at 30 days (ECUD 8, ICUD 2;
p
 = 0.026). The mean follow-up times were 48.7 months (ECUD group) and 26.4 months (ICUD group). There were no statistically significant differences in estimated glomerular filtration rates postoperatively (
p
 = 0.516). Seven patients had disease metastases (ECUD 2 out of 19, ICUD 5 out of 19;
p
 = 0.405) and 5 died (ECUD 3 out of 19, ICUD 2 out of 19;
p
 > 0.9).
Conclusions
ICUDs benefit females by having smaller incisions, faster recoveries, and decreased complication rates.