06.03.2019 | Original Contributions | Ausgabe 6/2019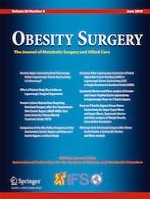 Comparison of Non-routine Healthcare Utilization in the 2 years Following Roux-En-Y Gastric Bypass and Sleeve Gastrectomy: A Cohort Study
Zeitschrift:
Autoren:

Richard L. Seip, Kyle Robey, Andrea Stone, Geneth Chin, Ilene Staff, Tara McLaughlin, Darren Tishler, Pavlos Papasavas
Wichtige Hinweise
Publisher's Note
Springer Nature remains neutral with regard to jurisdictional claims in published maps and institutional affiliations.
Abstract
Background
Patients undergoing Roux-en-Y gastric bypass (RYGB) and sleeve gastrectomy (SG) have different healthcare needs after surgery. Our aim was to quantify non-routine healthcare utilization after RYGB vs. SG.
Methods
We compared non-routine (NR) visits made and associated services provided up to 2 years post-surgery for patients undergoing RYGB or SG at a Bariatric Surgery Comprehensive Center between March 2013 and April 2015.
Results
A total of 258 and 461 patients had primary RYGB and SG, respectively. Successful follow-up rates at one (76.2%) and 2 years post-surgery (52.6%) did not differ between groups. Rates for all NR visits, expressed as the number per 100 patients, were 68.6 in RYGB vs. 35.4 in SG patients (
p
 < 0.0001). Emergency department visits with subsequent admission (EDA) or without subsequent admission (ED-only) and outpatient visits (OPV) were more frequent in RYGB vs. SG: EDA, 14.7 vs. 8.0 (
p
 = 0.0076); ED-only, 17.8 vs. 7.6 (
p
 = 0.0001); and OPV, 29.8 vs. 14.1 (
p
 < 0.0001). RYGB required more services per 100 patients than SG, 120.9 vs. 75.3, respectively (
p
 < 0.0001). Imaging was the resource most often used overall. Surgery type (RYGB) significantly predicted healthcare utilization even after controlling for gender, ethnicity, and other variables. Healthcare utilization peaked at 1 to 6 months post-surgery, driven by patients who underwent RYGB.
Conclusions
RYGB required twice as many non-routine follow-up visits and 1.6 times greater use of healthcare services relative to SG. Computer-assisted tomography imaging and endoscopies showed the greatest differences. Peak healthcare utilization for RYGB occurred between 1 and 6 months following surgery.