12.05.2017 | Original Paper | Ausgabe 1/2018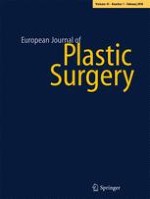 Comparison of pain, nausea, and complications in outpatient and inpatient breast augmentation
Zeitschrift:
Autoren:

Carlos Weck Roxo, Ana Claudia Weck Roxo, Fernando Serra, Denise da Mota, João Henrique Spagolla Pontello, Daniel Leal, José Horácio Aboudib, Fábio X. Nahas
Abstract
Background
Outpatient surgery is growing exponentially in different surgical areas, driven by cost savings and convenience for both the patient and the surgeon. Breast augmentation is one of the most commonly performed cosmetic surgical procedures and despite being a simple procedure, some surgeons prefer to keep the patient overnight, due to fear of complications and unsatisfactory pain and nausea management. The aim of this study was to compare postoperative complications, pain, nausea, and satisfaction between an outpatient and on 24-h hospitalization basis.
Methods
Eighty female patients undergoing breast augmentation were selected. Patients were allocated randomly, 40 patients each group. One group remained hospitalized for 24 h and the other group was discharged after surgery. In both groups were evaluated the following: complications, postoperative pain, nausea, and patient satisfaction with the recovery regime. Patients were followed up weekly within the first 4 weeks and then monthly. Pain evaluation was carried out using the pain scale proposed by Huskisson. A statistical analysis was also made.
Results
Eighty patients were operated, 40 patients in each group. There were no intraoperative complications in any group. In the hospital group, there was one case of hematoma (2.5%) and in the outpatient group, there was one case of infection (2.5%) (
p
= 1). Regarding postoperative pain, the average score was 3.9 in the hospital group and 4.1 in the outpatient group (
p
= 0.39). All patients in the outpatient group (100%) reported being satisfied with their recovery site and only 80% in the hospital group were satisfied (
p
= 0.002). Eight patients (20%) would rather have been discharged after the procedure.
Conclusions
Breast augmentation performed in an outpatient setting presented complication rates similar to conventional hospitalization, as well as levels of postoperative pain and nausea. However, there was a higher rate of patient's satisfaction in the outpatient group.
Level of Evidence: Level I, risk / prognostic study.