24.08.2017 | Ausgabe 5/2018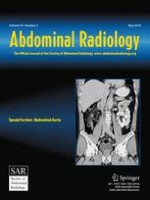 Comparison of quantitative apparent diffusion coefficient parameters with prostate imaging reporting and data system V2 assessment for detection of clinically significant peripheral zone prostate cancer
Zeitschrift:
Autoren:

Elmira Hassanzadeh, Francesco Alessandrino, Olutayo I. Olubiyi, Daniel I. Glazer, Robert V. Mulkern, Andriy Fedorov, Clare M. Tempany, Fiona M. Fennessy
Abstract
Purpose
To compare diagnostic performance of PI-RADSv2 with ADC parameters to identify clinically significant prostate cancer (csPC) and to determine the impact of csPC definitions on diagnostic performance of ADC and PI-RADSv2.
Methods
We retrospectively identified treatment-naïve pathology-proven peripheral zone PC patients who underwent 3T prostate MRI, using high
b
-value diffusion-weighted imaging from 2011 to 2015. Using 3D slicer, areas of suspected tumor (T) and normal tissue (N) on ADC (
b
= 0, 1400) were outlined volumetrically. Mean ADC
T
, mean ADC
N
, ADC
ratio
(ADC
T
/ADC
N
) were calculated. PI-RADSv2 was assigned. Three csPC definitions were used: (A) Gleason score (GS) ≥ 4 + 3; (B) GS ≥ 3 + 4; (C) MRI-based tumor volume >0.5 cc. Performances of ADC parameters and PI-RADSv2 in identifying csPC were measured using nonparametric comparison of receiver operating characteristic curves using the area under the curve (AUC).
Results
Eighty five cases met eligibility requirements. Diagnostic performances (AUC) in identifying csPC using three definitions were: (A) ADC
T
(0.83) was higher than PI-RADSv2 (0.65,
p
= 0.006); (B) ADC
T
(0.86) was higher than ADC
ratio
(0.68,
p
< 0.001), and PI-RADSv2 (0.70,
p
= 0.04); (C) PI-RADSv2 (0.73) performed better than ADC
ratio
(0.56,
p
= 0.02). ADC
T
performance was higher when csPC was defined by A or B versus C (
p
= 0.038 and
p
= 0.01, respectively). ADC
ratio
performed better when csPC was defined by A versus C (
p
= 0.01). PI-RADSv2 performance was not affected by csPC definition.
Conclusions
When csPC was defined by GS, ADC parameters provided better csPC discrimination than PI-RADSv2, with ADCT providing best result. When csPC was defined by MRI-calculated volume, PI-RADSv2 provided better discrimination than ADCratio. csPC definition did not affect PI-RADSv2 diagnostic performance.