05.08.2019 | Ausgabe 6/2020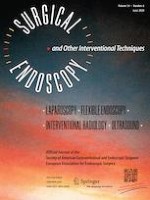 Comparison of the intracorporeal triangular and delta-shaped anastomotic techniques in totally laparoscopic distal gastrectomy for gastric cancer: an analysis with propensity score matching
Zeitschrift:
Autoren:

Yoshitomo Yanagimoto, Takeshi Omori, Yoshiyuki Fujiwara, Koichi Demura, Moon Jeong-Ho, Naoki Shinno, Kazuyoshi Yamamoto, Keijiro Sugimura, Hiroshi Miyata, Hajime Ushigome, Yusuke Takahashi, Junichi Nishimura, Masayoshi Yasui, Kei Asukai, Daisaku Yamada, Hiroshi Wada, Hidenori Takahashi, Masayuki Ohue, Masahiko Yano, Masato Sakon
Wichtige Hinweise
Publisher's Note
Springer Nature remains neutral with regard to jurisdictional claims in published maps and institutional affiliations.
Abstract
Background
The delta-shaped anastomotic technique (Delta-SA) has been accepted as a standard reconstruction method in totally laparoscopic distal gastrectomy with Billroth I reconstruction (TLDG B-I). However, some anastomosis-related surgical complications have been reported. We evaluated the safety and feasibility of modified Delta-SA, called intracorporeal triangular anastomotic technique (INTACT), in this study.
Methods
From January 2010 to May 2018, we identified patients who underwent TLDG B-I with INTACT (
n
 = 289) and Delta-SA (
n
 = 221). Using one-to-one propensity score matching, surgical outcomes and gastrointestinal function were compared between the two groups.
Results
After one-to-one propensity score matching, 177 pairs of INTACT and Delta-SA patients were selected. Patient background was closely balanced between the two groups. Operative time (186 [159, 213] min vs. 237 [213, 264] min;
P 
< 0.001), estimated blood loss (0 [0, 10] g vs. 20 [0, 50] g;
P 
< 0.001), and postoperative hospital stay (7 [7, 9] days vs. 10 [9, 13] days;
P 
< 0.001) were significantly lower in the INTACT group than in Delta-SA group. There were no patients with postoperative leakage in the INTACT group and three patients in the Delta group (0.0% vs. 1.7%;
P 
= 0.041). Endoscopic food residue grade ≥ 3 based on the Residue, Gastritis, Bile classification system at 1 year after surgery was observed in 14 patients in the INTACT group and 30 patients in the Delta group (9.6% vs. 17.0%;
P 
= 0.052).
Conclusion
INTACT in TLDG B-I is safe and feasible for gastric cancer. Given its acceptable surgical outcomes, this alternative reconstruction method can be an option with TLDG B-I.