01.12.2015 | Research article | Ausgabe 1/2015 Open Access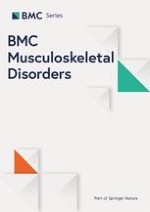 Comparison of the outcomes of cannulated screws vs. modified tension band wiring fixation techniques in the management of mildly displaced patellar fractures
Zeitschrift:
Autoren:

Tao Lin, Junbin Liu, Baojun Xiao, Dehao Fu, Shuhua Yang
Wichtige Hinweise
Tao Lin and Junbin Liu contributed equally to this work.
Competing interests
The authors declare that they have no competing interests.
Authors' contributions
All authors made substantial contributions to the study design and acquisition, analysis, and interpretation of data. D-hF and S-hY conceived the study; TL, JL, and D-hF were responsible for the design and the statistical analysis; and TL was involved in drafting the manuscript as well as revising it critically for important intellectual content. D-hF and S-hY have given final approval of this version to be published. All authors read and approved the final manuscript.
Abstract
Background
K wire fixation with tension band wiring has conventionally been used for the open reduction and internal fixation of the patella. However, it suffers from distinct disadvantages such as implant irritation, need for open reduction, incidence of palpable implants, and need for subsequent implant removal. A smaller incision with percutaneous fixation may be an alternative to this established conventional technique. Thus, the purpose of this trial was to compare the treatment outcomes of patients with mildly displaced patellar fractures treated with closed reduction and percutaneous cannulated screw fixation (CRCF) as compared to open reduction and tension band wiring fixation (ORTF). Specifically, we aimed to determine whether cannulated screw fixation was associated with improved clinical outcomes at 12 months as measured using the Lysholm score, pain scores, degree of flexion, range of motion, time to radiographic union, radiographic outcomes, and complication rates.
Methods
Sixty-three patients with transverse patellar fractures displaced less than 8 mm were included in this prospective, randomized, controlled trial, with 52 patients in the final data analysis. Thirty-two patients were operatively treated by CRCF with either two or three cannulated screws. Thirty-one patients were operatively treated by conventional ORTF using the modified tension band technique. At postoperative intervals of 3, 6, and 12 months, knee function was evaluated using the Lysholm score, pain was assessed using the visual analog scale (VAS) score, and active knee extensions and flexion were measured in degrees by goniometry.
Results
The CRCF group had average Lysholm scores of 84.4 ± 5.8, 86.7 ± 6.4, and 93.2 ± 5.3 after 3, 6, and 12 months, respectively, which were significantly greater than those of the ORTF group (79.0 ± 5.3,
p
 = 0.001; 81.5 ± 4.6,
p
 = 0.002; and 89.8 ± 6.2,
p
 = 0.039, respectively). Lower pain and squatting scores were the main reasons for the poorer Lysholm scores in the ORTF group. The VAS scores showed that the CRCF group had lower pain scores and better flexion and total range of motion (ROM) compared with the ORTF group after 3 and 6 months, although both groups had similar outcomes after 12 months. The mean fracture healing time of 2.65 months was similar in the CRCF groups (2.77 months;
p
 = 0.440). Complication rates were 3/26 (11.5 %) in the CRCF group and 14/26 (53.4 %) in the ORTF group. Two patients in the CRCF group and eight patients in the ORTF group experienced skin irritation. In addition, two (7.7 %) patients in the CRCF group and 11 (42.3 %) patients in the ORTF group required implant removal because of symptoms due to the presence of the implants.
Conclusion
Surgical treatment of mild displaced (less than 8 mm) transverse patellar fractures by the CRCF technique provides satisfactory clinical results and excellent knee function, with little pain and a low incidence of complications at early follow-up (up to 6 months). These results suggest that the CRCF technique may be a superior alternative to conventional ORTF. Registration Trial (Chinese Clinical Trial Register): Current Controlled Trials ChiCTR-PRCH-14005017, registration dates 2014-06-14.