01.12.2014 | Research article | Ausgabe 1/2014 Open Access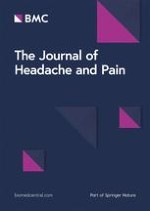 Comparison of the vasodilator responses of isolated human and rat middle meningeal arteries to migraine related compounds
Zeitschrift:
Autoren:

Gustaf Grände, Sieneke Labruijere, Kristian Agmund Haanes, Antoinette MaassenVanDenBrink, Lars Edvinsson
Wichtige Hinweise
Electronic supplementary material
The online version of this article (doi:
10.​1186/​1129-2377-15-22
) contains supplementary material, which is available to authorized users.
Competing interests
The authors declare that they have no competing interests.
Authors' contributions
Conceived and designed the experiments: GG, SL, KAH, AMvdB, LE. Performed the experiments: GG, SL, KAH. Analyzed the data: GG, SL, KAH, AMvdB. Contributed reagents/materials/analysis tools: AMvdB, LE. Wrote the paper: GG, SL, KAH, AMvdB, LE. All authors read and approved the final manuscript.
Abstract
Background
Migraine attacks occur spontaneously in those who suffer from the condition, but migraine-like attacks can also be induced artificially by a number of substances. Previously published evidence makes the meninges a likely source of migraine related pain. This article investigates the effect of several vasodilators on meningeal arteries in order to find a connection between the effect of a substance on a meningeal vessel and its ability to artificially induce migraine.
Methods
A myograph setup was used to test the vasodilator properties of the substances acetylcholine (ACh), sodium nitroprusside (SNP), sildenafil, prostaglandin E2 (PGE2), pituitary adenylate cyclase activating peptide-38 (PACAP-38), calcitonin gene-related peptide (CGRP) and NaCl buffer on meningeal arteries from human and rat. An unpaired t-test was used to statistically compare the mean Emax(%) at the highest concentration of each substance to the Emax(%) of NaCl buffer.
Results
In the human experiments, all substances except PACAP-38 had an Emax (%) higher than the NaCl buffer, but the difference was only significant for SNP and CGRP. For the human samples, clinically tested antimigraine compounds (sumatriptan, telcagepant) were applied to the isolated arteries, and both induced a significant decrease of the effect of exogenously administrated CGRP. In experiments on rat middle meningeal arteries, pre-contracted with PGF2α, similar tendencies were seen. When the pre-contraction was switched to K+ in a separate series of experiments, CGRP and sildenafil significantly relaxed the arteries.
Conclusions
Still no definite answer can be given as to why pain is experienced during an attack of migraine. No clear correlation was found between the efficacy of a substance as a meningeal artery vasodilator in human and the ability to artificially induce migraine or the mechanism of action. Vasodilatation could be an essential trigger, but only in conjunction with other unknown factors. The vasculature of the meninges likely contributes to the propagation of the migrainal cascade of symptoms, but more research is needed before any conclusions can be drawn about the nature of this contribution.