08.09.2017 | Clinical Investigation | Ausgabe 3/2018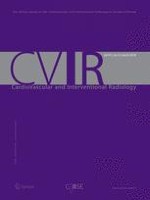 Comparison of Two Endovascular Steerable Robotic Catheters for Percutaneous Robot-Assisted Fibroid Embolization
Zeitschrift:
Autoren:

C. Del Giudice, O. Pellerin, M. Nouri Neville, G. Amouyal, I. Fitton, C. Leré-Déan, M. Sapoval
Abstract
Purpose
To compare outcomes of percutaneous robot-assisted uterine fibroid embolization (UFE) using two different endovascular robotic catheters.
Methods
Twenty-one patients with a symptomatic uterine fibroid were prospectively enrolled in a single-center study to be treated with a percutaneous robot-assisted embolization using the Magellan system. Fourteen patients were treated using a first generation steerable robotic catheter, version 1.0 (group 1), and seven were treated using the new version 1.1 (group 2). Demographic, pathologic, and procedural variables were recorded. Dose Area Product (DAP) and physician equivalent doses were registered for each procedure. Procedural related complications and clinical midterm outcomes were also evaluated.
Results
Successful robot-assisted UFE was obtained in eight patients (57.1%) in group 1 and 7 patients (100%) in group 2 (
p
= 0.01). A successful robot-assisted catheterization of the internal iliac artery anterior branch was performed in all patients of both groups. Median selective target vessel catheterization time was 21.0 ± 12.8 vs 13.4 ± 7 min (
p
= 0.04) and total fluoroscopy time was 30.3 ± 11.2 vs 19.3 ± 5.9 min, respectively, in group 1 and 2. Mean DAP decreased from 18472.6 ± 15622 to 5469.1 ± 4461.0 cGy·cm
2
(
p
= 0.04). All patients obtained a symptoms relief at 6 months follow-up.
Conclusions
Robot-assisted uterine fibroid embolization is safe and effective. New version of steerable robotic catheter allows performing a faster procedure without related adverse events compared to old version.