01.12.2019 | Research article | Ausgabe 1/2019 Open Access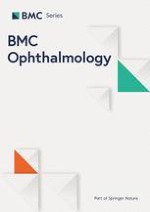 Comparison of visual quality after EVO-ICL implantation and SMILE to select the appropriate surgical method for high myopia
Zeitschrift:
Autoren:

Qin Qin, Lianyun Bao, Liping Yang, Zifang He, Zhenping Huang
Abstract
Background
This study sought to compare the visual quality between intraocular collamer lens (EVO-ICL) implantation and small-incision lenticule extraction (SMILE) and determine the appropriate surgical method to treat patients with high myopia (− 6.25 to − 10 D).
Methods
A total of 48 eyes underwent EVO-ICL implantation and another 48 eyes underwent SMILE. The uncorrected distance visual acuity (UDVA), best-corrected distance visual acuity (BCVA) and equivalent spherical degree were compared across the SMILE (− 6.25 to − 10 D) and EVO-ICL (− 6.25 to − 10 D) implantation groups. Preoperative and postoperative visual quality parameters were compared between and within groups.
Results
The OQAS II values (OV 100%) one week and one month after surgery and the modulation transfer function (MTF), OV 20% and OV 9% values one week after surgery in the SMILE group were lower than the respective preoperative values. The objective scatter index (OSI) value increased one week as well as one month after surgery compared with the preoperative values. The MTF cut-off value of the SMILE group was lower than that of the EVO-ICL implantation group three months after surgery.
Conclusions
For patients with high myopia, the postoperative visual quality of EVO- ICL implantation was slightly better than that of SMILE.