01.12.2012 | Research | Ausgabe 1/2012 Open Access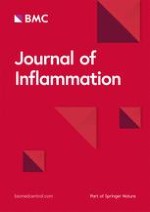 Complement regulatory protein Crry deficiency contributes to the antigen specific recall response in experimental autoimmune myasthenia gravis
Zeitschrift:
Autoren:

Jindrich Soltys, Xiaobo Wu
Wichtige Hinweise
Electronic supplementary material
The online version of this article (doi:
10.​1186/​1476-9255-9-20
) contains supplementary material, which is available to authorized users.
Competing interests
The authors declare that they have no competing interests.
Authors' contributions
JS and XW contributed equally to the manuscript. Both authors read and approved the final manuscript.
Abstract
Background
Myasthenia gravis (MG) and animal model of experimental autoimmune myasthenia gravis (EAMG) is the most common autoimmune disorder of neuromuscular transmission. The disease is caused by the breakdown of the acetylcholine receptor (AChR) which is largely due to complement activation at the neuromuscular junction (NMJ). Limited knowledge exists to the extent that complement receptor 1-related gene/protein y deficiency (Crry −/−) modulates the adaptive immune response and EAMG outcome.
Methods
Mouse EAMG was induced by s.c. administrations of purified acetylcholine receptor (
AChR
) to Crry
−/−
and age- matched WT (C57BL/6) mice. Disease severity was assessed by clinical score assessment and muscle grip strength measurements. Serum complement activity was determined by hemolytic assay. ELISA was used to detect the level of AChR specific antibodies. Splenic cells were analyzed for T and B cells subsets distribution, release of cytokines and AChR specific recall responses. Deposition of complement components at the NMJ was assessed by immunofluorescence staining.
Results
In comparison to WT EAMG, Crry −/− EAMG mice showed signs of augmented muscle weakness but differences, except for one time point, were not statistically significant. Serum complement activity was reduced in Crry −/− EAMG mice and no substantial changes in deposition of C3, C3b/iC3b and C5b-9 (MAC) at the NMJ between WT EAMG and Crry −/− EAMG mice were detected. Lack of Crry affected adaptive immune response. Crry −/− EAMG mice showed increases in the number of AChR specific splenic T-cells secreting IFN-γ and IL-4. Production of complement fixing antibodies (IgG2b, IgG2c) was also augmented. More Th1, Th2 and Th17 cytokines were released into the bloodstream of Crry −/− EAMG mice.
Conclusions
Data suggest that Crry deficiency modulates the adaptive immune response in EAMG, but its effect on disease outcome is limited. This was due to the generally lower serum complement level caused by increased C3 turnover. Modulation of complement activity with soluble or membrane bound regulators of complement activity represents a potentially effective approach to modify autoimmune processes in MG and EAMG.