15.06.2017 | Original Paper | Ausgabe 3/2018 Open Access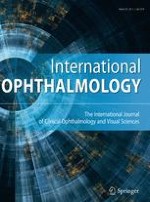 Complete corneal ring (MyoRing) implantation versus MyoRing implantation combined with corneal collagen crosslinking for keratoconus: 3-year follow-up
Zeitschrift:
Autoren:

Guzel Bikbova, Gyulli Kazakbaeva, Mukharram Bikbov, Emin Usubov
Abstract
Purpose
To estimate the effectiveness of complete corneal ring (MyoRing) implantation compared with MyoRing implantation combined with corneal collagen crosslinking (CXL) for keratoconus treatment for 36 months follow-up.
Design
Retrospective cohort study.
Materials and methods
MyoRing implantation was performed in a series of 78 patients (80 eyes) with keratoconus II–III Amsler classification, of these 39 eyes had MyoRing implantation combined with CXL. Implantation of a MyoRing in the corneal pocket was performed using a PocketMaker microkeratome and corneal intrastromal implantation system. During CXL, riboflavin solution 0.1% was injected into the corneal pocket through the incision tunnel and standard surface UVA irradiation (370 nm, 3 mW/cm2) was then applied from 5-cm distance for 30 min.
Results
Significant improvements in uncorrected distance visual acuity and corrected distance visual acuity were observed for both groups, which was relatively better 12 months after procedure in MyoRing alone group; however, in 36 months there was no difference between groups. Keratometry was reduced in both groups; after MyoRing implantation for 8.45 D and MyoRing + CXL for 9.43 D, the spherical equivalent decreased from 8.45 to 7.72 D and from 9.43 to 6.25 D, respectively. The cylinder decreased to 3.33 D with MyoRing alone and to 3.31 D with MyoRing + CXL. Corneal thickness remained nearly unchanged (from 433.69 ± 38.76 to 434.21 ± 34.98) in MyoRing group and decreased from baseline (from 426.93 ± 46.58 to 401.24 ± 39.12 µm) in MyoRing + CXL group 36 months postoperatively, which corresponds with pachymetry reduction after conventional CXL.
Conclusion
Both MyoRing implantation and MyoRing combined with CXL were effective for treating keratoconus. At 36 months, there were slightly better outcomes in MyoRing + CXL group; however, in MyoRing alone group visual and refractive outcomes were stable overtime.