01.12.2015 | Case report | Ausgabe 1/2015 Open Access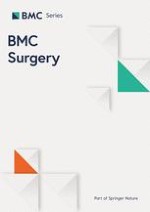 Complex single step skull reconstruction in Gorham's disease - a technical report and review of the literature
Zeitschrift:
Autoren:

Victoria Ohla, Ahmed B Bayoumi, Markus Hefty, Matthew Anderson, Ekkehard M Kasper
Wichtige Hinweise
Competing interests
All others certify that they have NO affiliations with or involvement in any organization or entity with any financial or non-financial competing interest in the subject matter or materials discussed in this manuscript.
Authors' contributions
VO has drafted the primary manuscript with collection of most of the online published data. AB drafted the final manuscript adding more to the intellectual content of the article by extensive editing of both the format and content of the discussion adding the technical details of pre-operative planning. AB has also designed the final attached figures and was responsible for proper referencing as well as addressing all the major and minor revisions as requested by the reviewers of different journals to reach the final submitted version. MH and MA carried out the histopathological analysis of the tissue sample and reviewed the paragraphs related to the pathogenesis of this rare disease. EK is the neurosurgeon who performed this surgical procedure and proposed the design of this article. EK has also revised the final draft extensively adding more impact to the clinical assessment of the illustrated case, technical surgical details and the strategy of preoperative planning in order to approve the final manuscript to be submitted. All authors read and approved the final manuscript.
Authors' information
First authorship was shared by Victoria Ohla and Ahmed B. Bayoumi.
Abstract
Background
Gorham's disease is a rare osteolytic disorder characterized by progressive resorption of bone and replacement of osseous matrix by a proliferative non-neoplastic vascular or lymphatic tissue. A standardized treatment protocol has not yet been defined due to the unpredictable natural history of the disease and variable clinical presentations. No single treatment has proven to be superior in arresting the course of the disease. Trials have included surgery, radiation and medical therapies using drugs such as calcium salts, vitamin D supplements and hormones. We report on our advantageous experience in the management of this osteolyic disorder in a case when it affected only the skull vault. A brief review of pertinent literature about Gorham's disease with skull involvement is provided.
Case presentation
A 25-year-old Caucasian male presented with a skull depression over the left fronto-temporal region. He noticed progressive enlargement of the skull defect associated with local pain and mild headache. Physical examination revealed a tender palpable depression of the fronto-temporal convexity. Conventional X-ray of the skull showed widespread loss of bone substance. Subsequent CT scans showed features of patchy erosions indicative of an underlying osteolysis. MRI also revealed marginal enhancement at the site of the defect. The patient was in need of a pathological diagnosis as well as complex reconstruction of the afflicted area. A density graded CT scan was done to determine the variable degrees of osteolysis and a custom made allograft was designed for cranioplasty preoperatively to allow for a single step excisional craniectomy with synchronous skull repair. Gorham's disease was diagnosed based on histopathological examination. No neurological deficit or wound complications were reported postoperatively. Over a two-year follow up period, the patient had no evidence of local recurrence or other systemic involvement.
Conclusions
A single step excisional craniectomy and cranioplasty can be an effective treatment for patients with Gorham's disease affecting the skull vault only. Preoperative planning by a density graded CT aids to design a synthetic bone flap and is beneficial in skull reconstruction. Systemic involvement is variable in this patient's population.