01.03.2012 | Clinical Article | Ausgabe 3/2012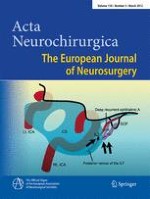 Complex wound-healing problems in neurosurgical patients: risk factors, grading and treatment strategy
Zeitschrift:
Autoren:

Kartik G. Krishnan, Adolf Müller, Bujung Hong, Alexander A. Potapov, Gabriele Schackert, Volker Seifert, Joachim K. Krauss
Wichtige Hinweise
A portion of this work was presented in poster form at the 62nd Annual Meeting of the German Neurosurgical Society, Hamburg, May 9th, 2011
Comment
The Authors have expanded their considerable surgical experience on complex wound healing management into the form of this valuable scientific report. The issue is important and rather underscored by the current literature. The Author's surgical techniques, description of illustrative cases, and conclusions are clearly presented and convincingly discussed. I am less enthusiastic concerning the grading and management algorithms, which, although logical and condivisible, are more reflecting expert's opinions rather than evidence-based scientific conclusions.
Domenico d'Avella
Padova, Italy
During a three-month service adjacent to the carnage of WW1, Harvey Cushing reduced the 'accepted' mortality of 50% in skull injuries with dural penetration to 29% in his 133 patients by meticulous technique and closure (1), concluding that 'success in closing defects is the offspring of ingenuity and experience'.
The authors feel that wound healing problems are underreported in neurosurgery. Actually, a great majority of neurosurgical wounds seem to heal per primam intentionem in modern neurosurgery, according to the PubMed articles from the last 10 years: wound healing and neurosurgery 670 – neuroendoscopy 693 – acoustic neurinomas 2104 – meningiomas 5435 – intracranial aneurysms 7522 – glioblastomas 9082. Instead, the EANS Training Course programs witness that the problems of wound healing and their prevention and management are by far underdiscussed with the residents – the ones who will close most of the wounds per primam and even per secundam. And skull base tumours, aneurysms and AVMs of gargantuan sizes are by far overdiscussed for population based practices.
The authors report on adapted surgical wound management strategies in 49 patients with complex, recalcitrant (Thesaurus: disobedient, uncontrollable) wound healing problems involving the cranial vault (n = 43) and the skull base (n = 6). On-going chemo or radiotherapy (47%), prolonged cortisone application (51%), CSF leak (76%) and multiple failed attempts at wound closure (94%) were major risk factors. Local rotational advancement flaps were performed in 18 and free microvascular tissue transfer in 37. The authors conclude the obvious - 'free microvascular tissue transfer is the preferred choice to reconstruct large and complex wound healing problems'.
This is highly recommendable reading for any neurosurgeon and for residents in particular. Furthermore, all operations here were performed by the first author, trained in plastic & reconstructive microsurgery as well as in neurosurgery (!). Which comes to the contents of our residency programs - which (micro)surgical skills to obtain from outside the traditional scope of neurosurgery ?
Juha E Jääskeläinen
Kuopio, Finland
1. Cushing H (1918) Notes on penetrating wounds of the brain. Br Med J 23(2982):221-226
Abstract
Background
Wound-healing problems in the neurosurgical patient can be particularly bothersome, owing to various specific risk factors involved. These may vary from simple wound dehiscence to complex multi-layer defects with cerebrospinal fluid (CSF) leakage and contamination. The latter is quite rare in practice and requires an individually titrated reconstruction strategy. The objective is to retrospectively analyze neurosurgical patients with complex, recalcitrant wound-healing problems we had treated in our department, attempt to develop a grading system based on the risk factors specific to our specialty and adapt a surgical reconstruction algorithm.
Methods
During an 11-year period, 49 patients were identified to have had complex, recalcitrant wound-healing problems involving the cranial vault (
n
 = 43) and the skull base (
n
 = 6) that required an adapted surgical wound-management strategy. The etiologies of wound healing problems were aftermaths of surgical treatment of: (1) brain tumors (nine cases), (2) aneurysm clipping (ten cases), (3) trauma (27 patients), and (4) congenital malformations (three patients). Local rotational advancement flaps were performed in 18 patients and free microvascular tissue transfer was performed in 37 cases.
Results
Major risk factors leading to recalcitrant wound healing problems in the presented group were: prolonged angiographic interventions (20%), ongoing chemotherapy or radiotherapy (47%), prolonged cortisone application (51%), CSF leak (76%) and, above all, multiple failed attempts at wound closure (94%). Stable long-term wound healing was achieved in all patients using vascularized tissue coverage. A ternary grading system was developed based on various risk factors in the presented cohort. Accordingly, the algorithm for reconstruction in neurosurgical patients was adapted.
Conclusions
Primary disease, treatment history, and distorted anatomical structures are major concerns in the management of complex wound-healing problems in neurosurgical patients. The higher the risk factors involved, the more complex is the surgical strategy. Free microvascular tissue transfer offers stable long-term results in recalcitrant cases. However, this may be indicated only in patients with a good prognosis of the underlying disease.