01.07.2014 | Symposium: Traumatic Elbow Instability and its Sequelae | Ausgabe 7/2014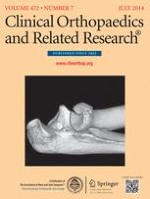 Complications of Hinged External Fixation Compared With Cross-pinning of the Elbow for Acute and Subacute Instability
Zeitschrift:
Autoren:

MD, PhD David Ring, MD Wendy E. Bruinsma, MD Jesse B. Jupiter
Wichtige Hinweise
Each author certifies that he or she, or a member of his or her immediate family, has no commercial associations (eg, consultancies, stock ownership, equity interest, patent/licensing arrangements, etc) that might pose a conflict of interest in connection with the submitted article
All ICMJE Conflict of Interest Forms for authors and
Clinical Orthopaedics and Related Research
®
editors and board members are on file with the publication and can be viewed on request.
Clinical Orthopaedics and Related Research
®
neither advocates nor endorses the use of any treatment, drug, or device. Readers are encouraged to always seek additional information, including FDA approval status, of any drug or device before clinical use.
Each author certifies that his or her institution approved the human protocol for this investigation, that all investigations were conducted in conformity with ethical principles of research, and that informed consent for participation in the study was obtained.
This work was performed at the Orthopaedic Hand and Upper Extremity Service, Massachusetts General Hospital, Boston, MA, USA.
Abstract
Background
Elbows that are unstable after injury or reconstructive surgery often are stabilized using external fixation or cross-pinning of the joint supplemented by cast immobilization. The superiority of one approach or the other remains a matter of debate.
Questions/purposes
We compared patients treated with external fixation or cross-pinning in terms of (1) adverse events, (2) Broberg and Morrey scores, and (3) ROM.
Methods
Between 1998 and 2010, 19 patients (19 elbows) had hinged external fixation and 10 patients (11 elbows) cross-pinning and casting for subacute or acute posttraumatic elbow instability. Our general indications for both techniques were persistent elbow instability after usual treatment. Initially, we used external fixation for delayed treatment of fracture-dislocations and cross-pinning for simple elbow dislocations in patients who could not tolerate surgery, but more recently we have used cross-pinning for both indications. Adverse events, elbow scores, and ROM were retrospectively evaluated by chart review, with the latter two end points being calculated at a mean of 31 months (range, 5–83 months) and 10 months (range, 5–21 months) after index procedure for the patients treated with external fixation and cross-pinning, respectively.
Results
Seven of 19 patients treated with external fixation experienced nine device-related adverse events: three pin tract infections, two nerve problems, one broken pin, one residual subluxation, one suture abscess, and one pin tract fracture of the ulna resulting in a nonunion. Of the 10 patients (11 elbows) treated with cross-pinning, one patient had pin tract inflammation that resolved with pin removal. Mean Broberg and Morrey score was 90 (95% CI, 84–95) after external fixation and 90 (95% CI, 84–96) after cross-pinning (p = 0.88). There were no differences between the external fixation and cross-pinning groups in mean flexion (123° versus 128°, p = 0.49), extension (29° versus 29°, p = 0.97), forearm pronation (68° versus 74°, p = 0.56), and forearm supination (47° versus 68°, p = 0.15).
Conclusions
When the elbow remains unstable after reduction and usual treatment for fractures and dislocations or has been out of place for more than 2 weeks, both cross-pinning and external fixation can help maintain elbow alignment while structures heal. Hinged external fixation is associated with more adverse events related to the device, but Broberg and Morrey score and ROM are similar between techniques.
Level of Evidence
Level III, therapeutic study. See Instructions for Authors for a complete description of levels of evidence.