12.02.2019 | Original Article—Liver, Pancreas, and Biliary Tract | Ausgabe 7/2019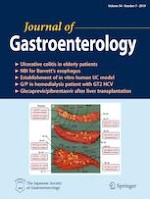 Comprehensive analysis of genetic aberrations linked to tumorigenesis in regenerative nodules of liver cirrhosis
Zeitschrift:
Autoren:

Soo Ki Kim, Haruhiko Takeda, Atsushi Takai, Tomonori Matsumoto, Nobuyuki Kakiuchi, Akira Yokoyama, Kenichi Yoshida, Toshimi Kaido, Shinji Uemoto, Sachiko Minamiguchi, Hironori Haga, Yuichi Shiraishi, Satoru Miyano, Hiroshi Seno, Seishi Ogawa, Hiroyuki Marusawa
Wichtige Hinweise
Electronic supplementary material
Soo Ki Kim and Haruhiko Takeda contributed equally to this work.
Publisher's Note
Springer Nature remains neutral with regard to jurisdictional claims in published maps and institutional affiliations.
Abstract
Background
Hepatocellular carcinoma (HCC) recurrently develops in cirrhotic liver containing a number of regenerative nodules (RNs). However, the biological tumorigenic potential of RNs is still unclear. To uncover the molecular bases of tumorigenesis in liver cirrhosis, we investigated the genetic aberrations in RNs of cirrhotic tissues using next-generation sequencing.
Methods
We isolated 205 RNs and 7 HCC tissues from the whole explanted livers of 10 randomly selected patients who had undergone living-donor liver transplantation. Whole-exome sequencing and additional targeted deep sequencing on 30 selected HCC-related genes were conducted to reveal the mutational landscape of RNs and HCCs.
Results
Whole-exome sequencing demonstrated that RNs frequently harbored relatively high-abundance genetic alterations, suggesting a clonal structure of each RN in cirrhotic liver. The mutation signature observed in RNs was similar to those determined in HCC, characterized by a predominance of C>T transitions, followed by T>C and C>A mutations. Targeted deep sequencing analyses of RNs identified nonsynonymous low-abundance mutations in various tumor-related genes, including
TP53
and
ARID1A
. In contrast,
TERT
promoter mutations were not detected in any of the RNs examined. Consistently,
TERT
expression levels in RNs were comparable to those in normal livers, whereas every HCC tissue demonstrated an elevated level of
TERT
expression.
Conclusion
Analyses of RNs constructing cirrhotic liver indicated that a variety of genetic aberrations accumulate in the cirrhotic liver before the development of clinically and histologically overt HCC. These aberrations in RNs could provide the basis of tumorigenesis in patients with liver cirrhosis.