12.03.2020 | Original Research Article | Ausgabe 9/2020 Open Access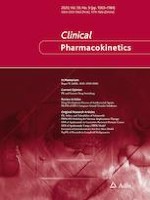 Comprehensive Parent–Metabolite PBPK/PD Modeling Insights into Nicotine Replacement Therapy Strategies
Zeitschrift:
Autoren:

Lukas Kovar, Dominik Selzer, Hannah Britz, Neal Benowitz, Gideon St. Helen, Yvonne Kohl, Robert Bals, Thorsten Lehr
Wichtige Hinweise
Electronic supplementary material
Key Points
A whole-body, parent–metabolite, physiologically based pharmacokinetic/pharmacodynamic model of nicotine was built and evaluated for the prediction of nicotine and cotinine plasma concentrations, nicotine brain tissue concentrations, and heart rate profiles after nicotine intake. The model was able to quantify the contribution of the elimination pathways of nicotine being metabolized to cotinine and renally excreted.
The model was applied to simulate nicotine brain tissue concentration patterns after smoking cigarettes, the administration of nicotine gums (2 mg and 4 mg), and a transdermal nicotine patch.
This study demonstrates the applicability of physiologically based pharmacokinetic modeling to investigate brain tissue concentrations and to successfully integrate many different routes of administration in one model: intravenous, pulmonary (combustible cigarettes and electronic cigarettes), oral (solutions, capsules, and nicotine gums), and transdermal (nicotine patches). Moreover, it represents the first nicotine physiologically based pharmacokinetic model that predicts nicotine plasma concentration and heart rate profiles after the use of electronic cigarettes.
3

Results
3.1

PBPK Model Building and Evaluation
3.2

Brain Concentrations after Different Routes of Administration

The model was used to simulate steady-state brain tissue concentrations throughout a day when smoking combustible cigarettes or e-cigarettes (16 cigarettes during 16 h), administering nicotine gums (16 gums during 16 h), or applying a nicotine patch (for 24 h). Simulations and results of the comparison of area under the brain tissue concentration–time curves, maximum brain tissue concentrations, and peak-trough differences for each type of nicotine administration are depicted in Fig.

6

.
×
3.3

PBPK/PD Model Building and Evaluation

The PBPK model has been augmented with a PD nicotine heart rate model (see Fig.

1

). The integrated PBPK/PD model is able to capture the effect of nicotine that leads to heart rate peaks rapidly after intravenous and pulmonary nicotine intake. A total of 11 studies evaluating the effect of nicotine on heart rate were used for PD model building and evaluation. Study details and key metrics are listed in Table S2.6.3 of the ESM. Parameters of the final PBPK/PD model are listed in Table

1

. PD model performance for both the internal training and the external test dataset is demonstrated by comparing the population predicted to heart rate profiles observed in Fig.

7

(representative studies) and in detail in Sect. 3.11 of the ESM (all studies).
×
4

Discussion

The main outcome of this study is the development of a comprehensive parent–metabolite PBPK/PD model of a drug, which is consumed by over 1.1 billion smokers and which is also used in NRTs as an important smoking cessation strategy [

1

]. The model provides a consistent representation of the nicotine dose-exposure relationship following intravenous, oral, transdermal, and pulmonary administration in non-smoking and smoking populations. It precisely describes and predicts nicotine and cotinine plasma and nicotine brain tissue concentrations. Thereby, the model is able to quantify the contribution of the elimination pathways of the fraction of nicotine metabolized to cotinine and urinary excretion of both nicotine and cotinine. Further, the PBPK model has been expanded by a heart rate tolerance model, which includes circadian rhythm, describing the positive chronotropic effect of nicotine. Finally, the model was used to identify differences in brain concentrations between pulmonary administration of nicotine (combustible cigarettes, e-cigarettes) and NRTs.

To reduce smoking dependence, exposure to smoke toxicants, and youth e-cigarette use, all of which are critical public health goals [

1

,

4

], it is crucial to have quantitative tools to better understand both smoking behavior and dependence on nicotine. This model represents an opportunity to simulate concentrations of nicotine in blood plasma and brain tissue with requested dosing regimens after four different routes of administration.

Five other PBPK models of nicotine have been developed so far; however, either important routes of administration, a PD heart rate model, comprehensive predictive performance, and/or the inclusion of a large number of clinical studies are missing [

49

–

53

]. The models developed by Plowchalk et al. (for rats), Robinson et al., and Yamazaki et al. (for humans) presented simplified implementations of the nicotine ADME processes [

49

–

51

]. While Teeguarden et al. stated that their "results should not at this time be considered accurate predictions of outcomes in a population of smokers", they presented one of the first broad models including several routes of nicotine administration (without a transdermal route) and a PD model [

52

]. The most current nicotine PBPK/PD model, by Gajewska et al., accurately described heart rate changes after transdermal nicotine intake but struggled to predict heart rate peaks occurring after intravenous nicotine administration and nicotine plasma concentrations after the removal of nicotine patches [

53

]. While the previously mentioned models provide the information in a condensed form to investigate the models independent of the underlying platform, the presented model relies on the application within the OSP framework. However, all the information can be accessed through the model file, which is publicly available in the OSP repository for application and investigation purposes.

Our PBPK/PD model incorporates comprehensiveness of both the routes of administration (intravenous, transdermal [patches], oral [including gums], and pulmonary [combustible cigarettes and e-cigarettes]) and the number of plasma, brain tissue, and heart rate profiles included (

n

 = 102) to develop the model. Moreover, this study presents a novel opportunity to simulate nicotine brain tissue concentrations after different routes of administration, based on incorporated information on brain tissue concentrations, in PK-Sim

®

and MoBi

®

.

In contrast with already published nicotine PBPK models, this study includes the two most important CYP enzymes for nicotine metabolism, CYP2A6 and CYP2B6, both highly polymorphic, and incorporated differences between CYP2A6 PMs and NMs [

15

,

40

,

54

]. This is crucial for the individualization of NRTs to avoid poor response and adverse drug reactions [

55

,

56

], as pharmacogenetic testing has shown the potential to optimize smoking cessation therapies [

13

,

14

]. Because only one plasma–concentration time profile for PMs was available and concentrations were determined only over 6 h, simulations of plasma concentrations may be less accurate over longer time periods. Hence, additional research on the PK of PMs would be of great interest. The enzymatic pathways responsible for nicotine glucuronidation (UGT2B10) and N-oxidation (FMO3) are subsumed under the unspecific hepatic clearance process.

Additionally, we present the first nicotine PBPK model that also includes and predicts nicotine concentration–time and heart rate profiles after e-cigarette use. In light of the ongoing discussions on the health risks of e-cigarettes and the fact that more than a quarter of high school students in the USA are current e-cigarette users with the figures still rising, our data might contribute to a better understanding of the persistent increase in youth e-cigarette use by serving as a basis for future studies on nicotine PK-based addiction models [

4

,

57

].

Being widely used as a quantitative marker for exposures to nicotine and as a measure of compliance with treatments for smoking cessation [

6

,

18

], cotinine was also included in the model. The glomerular filtration rate fraction of 0.06 for cotinine, combined with the description of the fraction of cotinine dose excreted unchanged to urine, indicates high tubular reabsorption of cotinine in the kidney. Accurate cotinine metabolite predictions after intravenous, oral (solutions, capsules), and transdermal administration could allow future investigations to perform reverse calculations to arrive at the amount of nicotine intake from cotinine plasma concentrations with this model. Because no cotinine metabolite data after pulmonary and nicotine gum intake were available, cotinine formation could not be evaluated for these routes of administration. However, CYP2A6 expression in the lung was implemented according to the PK-Sim

®

expression database, to cover potential differences in cotinine formation [

58

]. Variability in predictions for most intravenous, oral, and transdermal studies is better covered compared with pulmonary studies, where the variability observed is higher than predicted. This is as expected because variability in model predictions results from physiological differences, while the high variability after smoking results from differences in puffing behavior (such as puff volumes) called smoking topography [

59

].

As a result, our findings support the assumption that differences in smoking topography also lead to differences in nicotine plasma concentrations [

46

,

60

]. The fact that the model is able to describe nicotine PK after the use of combustible cigarettes and e-cigarettes with the same pulmonary administration model supports recent findings that differences in plasma PK result from different smoking and vaping patterns, respectively [

61

].

Although transmucosal absorption was neglected during the administration of nicotine gums, predictions for nicotine plasma profiles show very promising results. The future development of a physiological transmucosal PBPK model could help predict cotinine metabolite concentrations after the administration of nicotine gums. The expansion of our PBPK model with a two-compartment transdermal skin model led to better descriptions of nicotine and cotinine metabolite plasma profiles after transdermal absorption, compared with an existing transdermal nicotine PBPK model [

53

]. Thereby, it was possible to extrapolate patch parameter sets from the 30-mg single-dose Bannon et al. [

62

] study to 15-mg and 60-mg patches and to a multiple-dose administration. This indicates that extrapolation from one dose to higher and lower doses as well as from single to multiple doses is possible with the implemented transdermal model. However, more research needs to be conducted to increase the mechanistic component of the transdermal model. As a result of the good predictive PK performance of the intravenous nicotine PBPK model, future studies could use the mechanistic model to de novo predict nicotine and cotinine plasma concentrations based on patch characteristics and in vitro dissolution data.

The simulation study results of nicotine brain concentration patterns show decisive differences: the lower dose nicotine gums (2 mg) yield lower brain concentrations of about half the magnitude (

C

max,brain

) and extent (AUC

brain

) as the cigarette study arm does. Brain concentrations during nicotine patch application also do not reach the same magnitude as the simulation with cigarettes does. In contrast, the use of 16 nicotine gums of 4 mg causes similar

C

max,brain

and AUC

brain

values in brain concentrations. However, the fluctuation (peak-trough difference) stays lower, compared with smoking cigarettes. While the AUC

brain

of the nicotine patch trails behind the AUC

brain

of the cigarette study arm after 16 h, the AUC

brain

during the last 8 h is larger, compared with inhalation.

The nicotine brain concentration data used for model building represent nicotine concentrations in the whole brain tissue and do not specifically show concentrations at the nicotine receptor site. Thus, brain concentration simulations were also executed for brain tissue concentrations. To describe the brain tissue concentration profile included in the model development, the implementation of an influx and an efflux transporter in the BBB was necessary and is supported by the literature [

21

]. As data on nicotine brain tissue concentrations are scarce, only one brain kinetic profile was available to inform the model. Moreover, the brain tissue concentrations were determined only during a time span of 10 min after a single puff of combustible cigarettes [

11

]. Therefore, extrapolations to brain tissue simulations, especially of higher doses and longer timeframes, have to be interpreted carefully.

The magnitude of increase in heart rate is a surrogate measure for general pharmacological actions of nicotine. Two PBPK/PD heart rate models from the literature included studies only after intravenous and transdermal administration of nicotine [

52

,

53

]. In contrast, while our PD model was also built based on intravenous administration data, it was expanded and evaluated with heart rate data from study participants consuming combustible cigarettes, e-cigarettes, and nicotine gums. Moreover, we included circadian rhythm for heart rate, as the heart rate undergoes marked fluctuations throughout the day [

63

]. We succeeded in incorporating acute tolerance development to the heart rate effect, which can not only be observed after the intake of nicotine but also after other substances, such as cocaine or ponesimod [

20

,

64

]. Unfortunately, no heart rate data measured during a whole day of nicotine administration were available. The longest study which is included in the PD model development lasted about 6 h. Hence, extrapolations beyond this time domain should be investigated carefully.

The positive chronotropic effect of nicotine probably results from several effects. First, nicotine stimulates epinephrine and norepinephrine release by the activation of the ligand-gated cation channel nicotine acetylcholine receptors localized mainly on peripheral postganglionic sympathetic nerve endings and the adrenal medulla. Additionally, sympathetic stimulation can occur through the activation of peripheral carotid body chemoreceptors [

65

–

67

]. Moreover, a close relationship between plasma concentrations of nicotine and the cardiovascular effects has been observed after acute exposure to nicotine [

9

,

65

]. As a result, the PD effect was linked to the plasma concentrations. Linking the PD effect to concentrations of the heart or the brain compartment led to less precise predictions of heart rate changes.

Simulations of heart rate changes during the administration of four cigarettes, 16 cigarettes (1.4 mg each, smoked within 8 h), 16 nicotine gums (2 mg each), and a transdermal nicotine patch (21 mg in 24 h) have been performed (see Sect. 3.12 of the ESM). The results suggest a persistent increase in the baseline heart rate when smoking one cigarette every 30 min (about 9 beats/min), which is supported by clinical studies [

67

]. Whereas only a slight increase of heart rate baseline can be observed when simulating the administration of cigarettes smoked 2 h apart, an increased baseline level holds true also for the administration of nicotine gums and the nicotine patch, albeit to a lower extent (about 6 beats/min and 4 beats/min, respectively). These differences are consistent with published work showing a decrease in heart rate when switching from smoking cigarettes to the use of nicotine gums or patches [

68

,

69

].
5

Conclusions

A comprehensive whole-body parent–metabolite PBPK/PD model of nicotine and cotinine has been built that can predict (1) nicotine and cotinine plasma concentration–time profiles after various routes of administration, (2) nicotine brain tissue concentrations, and (3) the positive chronotropic effect of nicotine. The physiologically based modeling approach integrated the available in vitro, in vivo, and in silico information on nicotine and could help enhance the understanding of dependence on combustible cigarettes and e-cigarettes. The model was used to simulate and compare nicotine brain concentration patterns during smoking and the application of NRTs. The model is thoroughly documented in the ESM, and the model files are publicly available in the OSP repository (

https://​www.​open-systems-pharmacology.​org

). With that, the model can be used for the development of a detailed physiological transdermal and transmucosal nicotine model, contribute to a library of PBPK models for predictions in special populations, and help with future investigations of nicotine pharmacokinetics and pharmacodynamics, including the design of clinical trials and novel formulations to treat nicotine dependence.
Acknowledgement
Open Access funding provided by Projekt DEAL.
Compliance with Ethical Standards
Funding
This project has received funding from the German Federal Ministry of Education and Research (BMBF), 031L0153, "Alternativmethoden zum Tierversuch" and 03XP0196, "NanoCare4.0 - Anwendungssichere Materialinnovationen". Data used for model development were collected in part with the support of grants DA039264 and DA012393 from the National Institute on Drug Abuse, USA.
Conflict of interest
Neal Benowitz has been a consultant to Pfizer and Achieve Life Sciences, companies that market or are developing smoking cessation medications. He has also been a paid witness in litigation against tobacco companies. Lukas Kovar, Dominik Selzer, Hannah Britz, Gideon St.Helen, Yvonne Kohl, Robert Bals, and Thorsten Lehr have no conflicts of interest that are directly relevant to the content of this article.
Open Access
This article is licensed under a Creative Commons Attribution-NonCommercial 4.0 International License, which permits any non-commercial use, sharing, adaptation, distribution and reproduction in any medium or format, as long as you give appropriate credit to the original author(s) and the source, provide a link to the Creative Commons licence, and indicate if changes were made. The images or other third party material in this article are included in the article's Creative Commons licence, unless indicated otherwise in a credit line to the material. If material is not included in the article's Creative Commons licence and your intended use is not permitted by statutory regulation or exceeds the permitted use, you will need to obtain permission directly from the copyright holder.To view a copy of this licence, visit
http://​creativecommons.​org/​licenses/​by-nc/​4.​0/​
.