04.02.2019 | Original Paper | Ausgabe 8/2019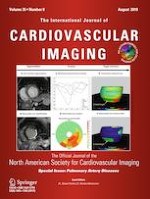 Computed tomography-measured pulmonary artery to aorta ratio and EUTOS score for detecting dasatinib-induced pulmonary arterial hypertension
Autoren:

Takumi Toya, Yuji Nagatomo, Kazuki Kagami, Midori Yukino, Risako Yasuda, Takayuki Namba, Yasuo Ido, Shinichi Kobayashi, Nobuyuki Masaki, Hirotaka Yada, Fumihiko Kimura, Takeshi Adachi
Wichtige Hinweise
Publisher's Note
Springer Nature remains neutral with regard to jurisdictional claims in published maps and institutional affiliations.
Abstract
Background
Periodic echo-based screening to detect early stages of a rare complication of dasatinib, pulmonary arterial hypertension (PAH), is inefficient and weakens the potential benefit of dasatinib as a potent drug for chronic myelogenous leukemia (CML). This study aimed to identify the predisposing factors of DASA-PAH to stratify high-risk patients for dasatinib-induced PAH (DASA-PAH).
Methods
Sixty consecutive adult patients who received dasatinib were enrolled in this case-control study. We defined DASA-PAH when at least one of the following four criteria was met: (1) recent electrocardiographic changes indicating right ventricular pressure overload, (2) estimated systolic pulmonary arterial pressure > 40 mmHg measured by Doppler echocardiography; (3) computed tomography (CT)-measured pulmonary artery to aorta diameter (PaD/AoD) ratio > 1; and (4) mean pulmonary arterial pressure > 25 mmHg and pulmonary artery wedge pressure < 15 mmHg measured by right heart catheterization.
Results
We identified 13 patients with DASA-PAH among 59 patients analyzed. Baseline PaD/AoD ratios of patients who developed DASA-PAH (PH group) were significantly larger than those who did not (NPH group). A dramatic rise in PaD/AoD ratio after dasatinib treatment was observed. Interestingly, the EUTOS score and spleen size were significantly smaller in the PH than in the NPH group.
Conclusion
High baseline PaD/AoD ratio and low EUTOS score were associated with DASA-PAH development. The spleen might play a protective role against DASA-PAH.