01.12.2016 | Review | Ausgabe 1/2016 Open Access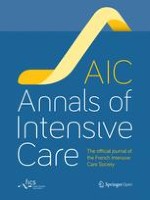 Concepts from paediatric extracorporeal membrane oxygenation for adult intensivists
Zeitschrift:
Autoren:

Warwick Butt, Graeme MacLaren
Human nature will not change. In any future great national trial, compared with the men of this, we shall have as weak and as strong, as silly and as wise, as bad and as good. Let us therefore study the incidents in this as philosophy to learn wisdom from and none of them as wrongs to be avenged.

Abraham Lincoln, 1865
Background
Patients started being treated with extracorporeal membrane oxygenation (ECMO) in the 1970s. Initial results were encouraging but associated with many complications. The publication of the first randomized control trial (RCT) of ECMO for acute respiratory distress syndrome (ARDS) in adults by Zapol et al. [
1
] showed no benefit and channelled efforts to improve the poor outcome for ARDS in other directions. However, Robert Bartlett from the University of Michigan decided to continue using ECMO in newborn infants with severe respiratory failure who could potentially recover more quickly than adults. This experience was quickly extended to older children and, in 1989, led to the establishment of the Extracorporeal Life Support Organization (ELSO) as a means of propagating knowledge about ECMO. Improved technology, equipment and understanding of patient and circuit pathophysiology led to a rapid increase in the use of ECMO for children. The use of ECMO for respiratory failure in adults continued in some centres during the 1990s but increased rapidly in the early 2000s and is now considered by many to be a standard therapy in many different clinical situations. The cumulative use of ECMO in patients is recorded by ELSO and reported biannually (Table
1
). Over the last five years, there has been a dramatic increase in the use of ECMO in adults with respiratory or cardiac failure (Table
2
). This explosion in the use of ECMO in adults is often attributed to the 2009 influenza A(H1N1) pandemic, but has also been due to ever-expanding indications in adult cardiac support, including post-cardiotomy shock, myocarditis, and as a bridge to ventricular assist device or thoracic organ transplantation. In 2012, more cases of cardiac ECMO were reported to ELSO in adults than in children. In 2013, the adult population similarly overtook the annual volume of paediatric and neonatal ECMO for respiratory indications.
Table 1
ELSO registry report: international summary (July 2015)
Total patients

Survived ECLS (%)

Survived to DC or transfer (%)

Respiratory

28,217

23,791

84

20,978

74

Cardiac

6046

3750

62

2497

41

ECPR

1188

766

64

489

41

Respiratory

6929

4579

66

3979

57

Cardiac

7668

5084

66

3878

51

ECPR

2583

1432

55

1070

41

Respiratory

7922

5209

66

4576

58

Cardiac

6522

3661

56

2708

42

ECPR

1985

791

40

589

30

TOTAL

69,114

49,063

71

40,764

59
Table 2
ELSO data on annual ECMO use 2010–2014 (July 2015)
2010

2011

2012

2013

2014

Neonatal

884

847

850

779

850

Paediatric

379

411

472

491

470

Adult

529

666

949

1423

1779

0–30 days

309

393

416

454

433

30 days–1 year

241

273

263

290

314

1–16 years

170

221

237

228

261

Over 16 years

423

597

1026

1235

1494
Many innovations in ECMO circuitry or clinical management evolve first in one particular discipline. For example, the first use of dual-lumen ECMO catheters, the first rigorous randomized controlled trial showing benefit to ECMO, and the most extensive long-term outcome studies were all performed in neonatal patients. We believe that it is helpful for individual clinicians to keep abreast of developments in ECMO across the entire age range, from neonatology to older adults. This review addresses nine concepts in ECMO that are better studied or established in paediatric medicine and considers their application in adult patients.
Review
Complex congenital heart disease and ECMO is coming to your adult ICU soon
In many high-income countries, there are now more adults alive with congenital heart disease than children, including complex cyanotic congenital heart disease [
49
]. Recent data from the Australia and New Zealand Fontan Registry showed that patients who underwent the conventional (atriopulmonary) Fontan operation had 76 % 25-year survival. With more recent modifications (lateral tunnel or extracardiac conduit), current 10-year survival in these patients is 97 % [
50
]. These patients have undergone multiple operations, require more elaborate cannulation strategies to decompress both vena cavae and commonly have difficult vascular access and complex physiology not often understood by clinicians untrained in or unfamiliar with this population. Many of them are candidates for extracorporeal support, as a bridge to recovery (e.g. following surgery or as a result of concomitant respiratory infection), surgical revision (e.g. thrombosis of the conduits) or ventricular assist device implantation and transplantation (e.g. irreversible myocardial failure due to uncorrectable atrioventricular valve regurgitation and chronic volume overload). Early cannulation is often necessary because extracorporeal cardiopulmonary resuscitation (ECPR) in this patient group is associated with extremely poor outcomes, probably because of the ineffectiveness of conventional CPR at providing systemic blood flow while simultaneously causing cerebral injury because of impedance to cerebral venous drainage. Medium-term goals after cannulation may require extensive multidisciplinary collaboration because of the need to gather the requisite information in order to plan bridging the patient from ECMO to a more definitive strategy. Meticulous understanding of the Fontan circulation is essential to optimize outcomes. However, few countries have prepared adequately for the incoming wave of critically ill patients with adult congenital heart disease (ACHD) and it is likely that multidisciplinary collaboration between adult and paediatric clinicians experienced with these conditions offers the best hope at present for patient care, until sufficient dedicated ACHD institutions can be established [
51
].
Conclusions
There are many unanswered questions about the role of ECMO in adults and children, but it is clear that, similar to mechanical ventilation, no classic RCT will be done. It is a therapy that has evolved disease-by-disease and patient group-by-patient group. With increasing safety and improving technology, it is a therapy that is here to stay. Indications will change, and the role of mechanical support as an individual therapy and a platform to facilitate other therapies is increasing. Paediatric clinicians have a long perspective on ECMO, outcome and follow-up, but adult clinicians are increasingly using ECMO in a variety of situations and rapidly developing new clinical paradigms of care. Good communication will ensure that both groups continue to learn from each other.
Authors' contributions
Both authors drafted the manuscript and had input into its intellectual content. Both authors read and approved the final manuscript.
Competing interests
The authors declare that they have no competing interests.
Open Access
This article is distributed under the terms of the Creative Commons Attribution 4.0 International License (
http://​creativecommons.​org/​licenses/​by/​4.​0/​
), which permits unrestricted use, distribution, and reproduction in any medium, provided you give appropriate credit to the original author(s) and the source, provide a link to the Creative Commons license, and indicate if changes were made.