01.12.2018 | Research article | Ausgabe 1/2018 Open Access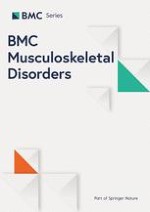 Concomitant glenohumeral injuries in Neer type II distal clavicle fractures
Zeitschrift:
Autoren:

Tobias Helfen, Georg Siebenbürger, Florian Haasters, Wolfgang Böcker, Ben Ockert
Abstract
Background
To identify the prevalence of concomitant glenohumeral injuries in surgically treated Neer type II distal clavicle fractures and relate its clinical importance.
Methods
Between 11/2011 and 11/2015 41 patients, suffering from a displaced and unstable distal clavicle fracture were included. 20 patients (group 1) received surgical treatment by means of plate osteosynthesis in combination with an arthroscopically assisted coraco-clavicular ligament augmentation. In group 2 (
n
 = 21 patients) the fracture was treated by hooked plating solely, and diagnostic arthroscopy was conducted during hardware retrieval after the fracture had healed. All arthroscopies were performed in a standardized fashion, images were blinded retrospectively, and evaluated by two independent investigators.
Results
In total, concomitant glenohumeral pathologies were found in 26.8% of cases (41 patients, mean age 43.6 ± 16.6 years). In Group 1 (
n
 = 20, arthroscopically assisted fracture treatment) the prevalence was 25%, in Group 2 (
n
 = 21, diagnostic arthroscopy during implant removal) 28.5% (
p
 = 0.75). Concomitant glenohumeral injuries included Labrum- and SLAP-tears, partial and full thickness rotator cuff tears as well as lesions to the biceps pulley system. Concomitant injuries were addressed in 2 patients of group 1 (10%, 2× labrum repair) and in 3 patients of group 2 (14.3%, of Group 2 (2× arthroscopic cuff repair of full thickness tear, 1× subpectoral biceps tenodesis in an type IV SLAP lesion,
p
 = 0.68).
Conclusion
The present study could clarify the acute and for the first time mid-term implication and clinical relevance of concomitant glenohumeral injuries. They have been observed in averaged 27% of Neer type II distal clavicle fractures at these two times. However, the findings of this study show that not all concomitant lesions remain symptomatic. While lesions are still present after fracture healing, it's treatment may be depicted upon symptoms at the time of implant removal. In turn, early diagnosis and treatment of concomitant injuries seems reasonable, as untreated injuries can remain symptomatic for more than 6 months after the fracture and recovery may be delayed.