19.10.2018 | Review Article | Ausgabe 3/2019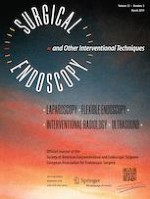 Concomitant ventral hernia repair and bariatric surgery: a retrospective analysis from a UK-based bariatric center
Zeitschrift:
Autoren:

Miss Sylvia Krivan, Andrea Giorga, Marco Barreca, Vigyan Kumar Jain, Omer Saad Al-Taan
Wichtige Hinweise
Marco Barreca: deceased in 2016.
Abstract
Background
Ventral hernias (VH) are frequently encountered in patients with morbid obesity. Concomitant ventral hernia repair (VHR) and bariatric surgery (BS) is practiced but still controversial. Wound-related complications (seroma, hematoma, wound infection) and hernia recurrence rates are possible inhibitor factors. We aimed to estimate the rate of complications from concomitant BS (laparoscopic Roux-en-Y gastric bypass and sleeve gastrectomy) and VHR and identify patient subgroups at higher risk of complications from synchronous repair.
Methods
A retrospective analysis of successive 106 patients who underwent concomitant BS + VHR at our institute (09/2007 to 09/2015) was performed using data from patients' record. Parameters considered were: type of repair (open/laparoscopic and primary closure/mesh), size and type of hernia (< 5 cm, 5–10 cm, > 10 cm and primary/incisional), patient gender and comorbidities.
Results
One hundred and six patients underwent concomitant BS and VHR. Fifty-nine had laparoscopic VHR and 47 open. Hernias recurred in 5 (8.47%) laparoscopic and 7 (14.89%) open VHR. Wound-related complications were common in open (15%) vs. laparoscopic (11.7%) VHR. Patients with VH recurrence included 8 (75%) with defects > 5 cm, 10 (83%) female, and all had BMI > 45. Six patients had wound infection, 5 of which had type 2 diabetes mellitus. Six patients had hematoma, 5 of which underwent mesh repairs. Finally, four patients developed seroma (BMI > 48, defects > 5 cm, laparoscopic mesh repair).
Conclusion
Synchronous VHR and BS in a bariatric unit is feasible with low recurrence rate. Laparoscopic VHR has lower complication rates than open, apart from seroma formation. Patients with diabetes have higher risk of infection.