01.12.2019 | Research | Ausgabe 1/2019 Open Access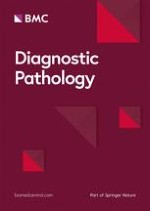 Concordance among four commercially available, validated programmed cell death ligand-1 assays in urothelial carcinoma
Zeitschrift:
Autoren:

Magdalena Zajac, Marietta Scott, Marianne Ratcliffe, Paul Scorer, Craig Barker, Hytham Al-Masri, Marlon C. Rebelatto, Jill Walker
Wichtige Hinweise
Electronic supplementary material
Publisher's Note
Springer Nature remains neutral with regard to jurisdictional claims in published maps and institutional affiliations.
Abstract
Background
Antibodies targeting the programmed cell death-1 (PD-1)/PD-ligand 1 (PD-1/PD-L1) checkpoint have shown promising clinical activity in patients with advanced urothelial carcinoma (UC). Expression of PD-L1 in UC tumors has been investigated using different antibody clones, staining protocols, and scoring algorithms. The aim was to establish the extent of concordance among PD-L1 immunohistochemistry (IHC) assays.
Methods
Tumor biopsy samples (
N
= 335) were assessed using four commercially available PD-L1 assays: VENTANA SP263, VENTANA SP142, PD-L1 IHC 28–8 pharmDx, and PD-L1 IHC 22C3 pharmDx. PD-L1 analytical staining and classification concordance, including agreement between clinically relevant scoring algorithms, were investigated using overall/positive/negative percentage agreement (OPA/PPA/NPA).
Results
Good analytical correlation was observed among the VENTANA SP263, PD-L1 IHC 22C3 pharmDx, and PD-L1 IHC 28–8 pharmDx assays for tumor cell (TC) and immune cell (IC) PD-L1 staining with Spearman rank coefficients of 0.92–0.93 for TCs and 0.88–0.91 for ICs. However, concordance (preset criterion: ≥85%) between patient PD-L1 status when applying the TC or ICICArea ≥ 25% (VENTANA SP263) cutoff was only achieved for PD-L1 IHC 22C3 pharmDx versus VENTANA SP263 (OPA 92.2%, PPA 86.4%, NPA 95.4%). Differences were observed between patient populations with UC tumors classified as PD-L1 high versus PD-L1 low/negative using combined positive score (CPS) ≥1, CPS ≥10, IC ≥5%, and TC/IC ≥25%.
Conclusions
The VENTANA SP263 and PD-L1 IHC 22C3 pharmDx assays are analytically similar in UC. When the different PD-L1 assays were combined with their specified clinical scoring algorithms, differences were seen in patient classification driven by substantial differences in scoring approaches.