01.12.2017 | Case report | Ausgabe 1/2017 Open Access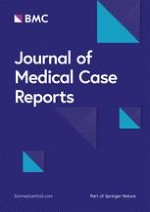 Congenital cystic adenomatoid malformation – dangers of misdiagnosis: a case report
Zeitschrift:
Autoren:

Wafae El Amraoui, Aziza Bentalha, Hajar Hamri, Salma Es-Chrif El Kettani, Alae El Koraichi
Background
Congenital cystic adenomatoid malformation (CCAM) is a rare malformation, with unknown causes, that affects distal bronchi [
1
]. It accounts for 25% of congenital pulmonary malformations and most cases are found in neonates and babies. It yields single or multiple cysts in different locations, with ipsilateral or even mediastinal pulmonary compression. The clinical manifestations are respiratory distress and recurrent pulmonary infection. CCAM is often misdiagnosed by radiology as a pulmonary cyst, bubbles of emphysema, or pneumothorax [
1
]. Our case report describes a late diagnosis of CCAM in a 10-month-old boy who was prescribed many antibiotics and who endured several lung drainages before being admitted to an operating room for a lobectomy.
We aim through this paper, to better understand this disease and its management and raise awareness about its seriousness. The rarity of this malformation, the difficulty of the diagnosis, and the quandary of the decision for an urgent elective surgical excision of lung, makes CCAM a real challenge for a multidisciplinary team including pediatricians, pediatric surgeons, pediatric intensivists, and radiologists.
Case presentation
A 10-month-old Arab boy born via a normal pregnancy without complications was admitted to intensive care for respiratory distress. Since birth, he had had several episodes of respiratory distress and pulmonary infections, which were successfully treated with antibiotics. He was diagnosed as having pleuropulmonary staphylococcal infection and was admitted to the pediatric service for 20 days. In fact, a computed tomography (CT) scan confirmed a localized pneumothorax suspected on radiography (Fig.
1
) with multiple emphysema bubbles (Fig.
2
). Thoracic drainage isolated a methicillin-susceptible
staphylococcus
on the collection of pus, and antibiotics were used with clinical improvement: intravenously administered ceftriaxone 100 mg/kg per day for 21 days, then orally relayed for another 3 weeks, initially associated to intravenously administered gentamycine 5 mg/kg per day for 5 days. He was discharged and an appointment was fixed within 10 days.
×
×
A week later, at the current episode, he had fever and respiratory distress. Unable to distinguish between a pneumothorax and a diaphragmatic hernia (Fig.
3
), we opted for a new CT scan. Pneumothorax was confirmed and re-drained immediately.
×
The re-reading of scanner plates, by an experienced radiologist with the help of pediatric surgeons, evoked the diagnosis of CCAM.
Symptoms were complicated a few hours later, with: hemodynamic instability; severe hypoxia, partial pressure of oxygen (pO 2) 41 mmHg; hypercapnia, partial pressure of carbon dioxide (pCO 2) 105 mmHg; and acidosis, pH 6.9.
After resuscitation measures, our patient was quickly transferred to the operating room for lobectomy of the lower lobe of his left lung. He died a few hours later due to hypoxia and hemodynamic instability refractory to resuscitation.
The pathological findings 10 days later of the surgical specimen confirmed the existence of CCAM.
The timeline of our patient is shown in Fig.
4
.
×
Discussion
Conclusions
While timely CCAM treatment gives good results, prenatally undiagnosed symptomatic lesions are hard to detect postnatally. A real awareness of this rare entity among pediatricians and radiologists should allow early diagnosis and proper treatment, avoiding the use of antibiotics, antituberculosis drugs, and chest drainage, which can be dangerous.
Acknowledgements
Not applicable.
Funding
All sources of funding for the research reported are declared.
Availability of data and materials
All authors ensure that materials described in the manuscript will be freely available to any scientist wishing to use them for non-commercial purposes, without breaching participant confidentiality.
Authors' contributions
WEA wrote the first draft of the manuscript. AB, AEK, and SEK all reviewed the manuscript and were involved in its critical revision before submission. All authors read and approved the final manuscript.
Competing interests
The authors declare that they have no competing interests.
Consent for publication
Written informed consent was obtained from the patient's legal guardians (parents) for publication of this case report and any accompanying images. A copy of the written consent is available for review by the Editor-in-Chief of this journal.
Ethics approval and consent to participate
Not applicable.
Publisher's Note
Springer Nature remains neutral with regard to jurisdictional claims in published maps and institutional affiliations.
Open Access
This article is distributed under the terms of the Creative Commons Attribution 4.0 International License (
http://​creativecommons.​org/​licenses/​by/​4.​0/​
), which permits unrestricted use, distribution, and reproduction in any medium, provided you give appropriate credit to the original author(s) and the source, provide a link to the Creative Commons license, and indicate if changes were made. The Creative Commons Public Domain Dedication waiver (
http://​creativecommons.​org/​publicdomain/​zero/​1.​0/​
) applies to the data made available in this article, unless otherwise stated.