01.12.2017 | Case report | Ausgabe 1/2017 Open Access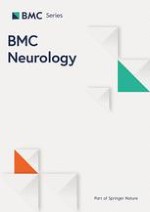 Conjugal amyotrophic lateral sclerosis: a case report from Scotland
Zeitschrift:
Autoren:

P. M. Fernandes, M. R. Macleod, A. Bateman, S. Abrahams, S. Pal
Abstract
Background
Conjugal amyotrophic lateral sclerosis is rare, with significant effects on psychological and care needs. We report a case of conjugal amyotrophic lateral sclerosis disease from central Scotland. This case is particularly unusual as both patients were diagnosed within an 18-month period and experienced the disease simultaneously, with similar symptomatology and progression.
Case presentation
Patient A was a 71-year-old man who presented with unilateral arm weakness and wasting. Patient B was a 68-year-old woman who presented with unilateral shoulder and elbow weakness. Diagnosis of amyotrophic lateral sclerosis was made within a few months of presentation in both cases, based on typical clinical symptomatology together with supportive neurophysiological testing. Interventions included enteral feeding and non-invasive ventilation. The time period between symptom onset and death was 5 years for Patient A and 3.5 years for Patient B.
Conclusion
This case illustrates two main points: the care issues surrounding cases of conjugal neurological disease, and the psychological issues in these patients.
There are significant care issues arising when co-habiting couples both develop severe functionally limiting neurological diseases at the same time. The more slowly progressive nature of Patient A's disease may be at least partially explained by the support he was able to receive from Patient B before she developed symptoms. Secondly, there are important psychological effects of living with someone with the same – but more advanced – progressive and incurable neurological disease. Thus, Patient B was reluctant to have certain interventions that she had observed being given to her husband. Lastly, no plausible shared environmental risk factors were identified, implying that the co-occurrence of ALS in this couple was a random association.