17.03.2020 | Ausgabe 1/2020 Open Access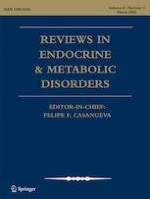 Consensus statement from 2nd International Conference on Controversies in Vitamin D
Zeitschrift:
Autoren:

A. Giustina, R. A. Adler, N. Binkley, J. Bollerslev, R. Bouillon, B. Dawson-Hughes, P. R. Ebeling, D. Feldman, A. M. Formenti, M. Lazaretti-Castro, C. Marcocci, R. Rizzoli, C. T. Sempos, J. P. Bilezikian
Wichtige Hinweise
Publisher's note
Springer Nature remains neutral with regard to jurisdictional claims in published maps and institutional affiliations.
Abbreviations
Acronyms (in order of appearance in text)
25(OH)D2
Ergocalciferol or vitamin D2
25(OH)D3
Cholecalciferol or vitamin D3
PT/EQA
Performance testing/external quality assessment schemes
DEQAS
Vitamin D External Quality Assessment Scheme
NIST
US National Institute for Standards and Technology
VDSP
Vitamin D Standardization Program
LC-MS/MS
Liquid chromatography-tandem mass spectrometry
HPLC
High performance liquid chromatography
RDA
Recommended Dietary Allowance
CAP
College of American Pathologists
CPDs
Cyclobutane pyrimidine dimers
GIO
Glucocorticoid-induced osteoporosis
SHPT
Secondary hyperparathyroidism
MBD
Mineral and bone disorder
K/DOQI
Kidney Disease Outcomes Quality Initiative
KDIGO
Kidney Disease: Improving Global Outcomes
TRPV6
Transient receptor potential cation channel subfamily V member 6
FGF23
Fibroblast Growth Factor 23
RCTs
Randomized controlled trials
EGFR – TKI
Epidermal growth factor receptor tyrosine kinase inhibitor
SERMs
Selective receptor modulators
SERDs
Down-regulators of the ER
ID-1
Inhibitor of differentiation/DNA binding
IBD
Inflammatory bowel disease
NAFLD
Non-alcoholic fatty liver disease
BPD
Biliopancreatic diversion
IGF-1
Insulin-like growth factor 1
VITAL
Vitamin D and Omega-3 trial
COPD
Chronic obstructive pulmonary disease
DO-HEALTH
Vitamin D3 - Omega3 - Home Exercise - Healthy Ageing and Longevity Trial
TIPS-3
The International Polycap Study 3
MACE
Major adverse cardiovascular events
D2d
Vitamin D and Type 2 Diabetes Study
WHI
Women's Health Initiative
Summary of the conference structure
Conference was supported by an unrestricted grant from Abiogen, Italy - Program was developed independently by a Steering Committee (Chairs JPB and AG) Program was organized in three sessions (Diagnosis, Clinical aspects, Treatment). Each session was based on short introductory lectures and break out discussions. Three working groups on Diagnosis, Clinical aspects and Treatment drafted a document about the topics discussed in each session and these documents were examined in plenary discussion sections during which consensus on single point was reached. The writing group is responsible for correctly reflecting the contents and consensus reached during the meeting.
Acknowledgement
This report summarizes the proceedings of the 2 nd International Conference on Controversies on Vitamin D. It was held on September 11-14, 2018, Siena, Italy.
We wish to acknowledge those who also participated in this meeting but are not listed as co-authors:
D. Bikle, C. Cipriani, L. Gennari, S. Gonnelli, A. Heijboer, S. Jakobsen, G. Jones, U.A. Liberman, G. Mazziotti, S. Minisola, M. Morello, N. Napoli, R. Nuti, G. Passeri, A. Pittas, F. Saponaro, R. K. R. Scragg, S. Trasciatti, J. Virtanen, C.L. Wagner, A. Young
Compliance with ethical standards
Conflict of Interest
The co-authors of this paper have no conflicts to declare with regard to its content.
Open Access
This article is licensed under a Creative Commons Attribution 4.0 International License, which permits use, sharing, adaptation, distribution and reproduction in any medium or format, as long as you give appropriate credit to the original author(s) and the source, provide a link to the Creative Commons licence, and indicate if changes were made. The images or other third party material in this article are included in the article's Creative Commons licence, unless indicated otherwise in a credit line to the material. If material is not included in the article's Creative Commons licence and your intended use is not permitted by statutory regulation or exceeds the permitted use, you will need to obtain permission directly from the copyright holder. To view a copy of this licence, visit
http://​creativecommons.​org/​licenses/​by/​4.​0/​
.
Publisher's note
Springer Nature remains neutral with regard to jurisdictional claims in published maps and institutional affiliations.