01.01.2014 | Symposium: 2013 Knee Society Proceedings | Ausgabe 1/2014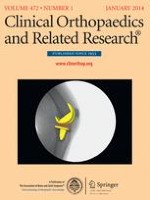 Constitutional Varus Does Not Affect Joint Line Orientation in the Coronal Plane
Zeitschrift:
Autoren:

MD, PhD Jan M. K. Victor, MD David Bassens, MD, PhD Johan Bellemans, MD Sarper Gürsu, MD, PhD Aad A. M. Dhollander, MD, PhD Peter C. M. Verdonk
Wichtige Hinweise
Each author certifies that he or she, or a member of his or her immediate family, has no funding or commercial associations (eg, consultancies, stock ownership, equity interest, patent/licensing arrangements, etc) that might pose a conflict of interest in connection with the submitted article.
All ICMJE Conflict of Interest Forms for authors and
Clinical Orthopaedics and Related Research
editors and board members are on file with the publication and can be viewed on request.
Each author certifies that his or her institution approved the human protocol for this investigation, that all investigations were conducted in conformity with ethical principles of research, and that informed consent for participation in the study was obtained.
Abstract
Background
In a previous study, we described the distribution of coronal alignment in a normal asymptomatic population and recognized the occurrence of constitutional varus in one of four individuals. It is important to further investigate the influence of this condition on the joint line orientation and how the latter is affected by the onset and progression of arthritis.
Questions/purposes
The purposes of this study are (1) to describe the distribution of joint line orientation in the coronal plane in the normal population; (2) to compare joint line orientation between patients with constitutional varus and neutral mechanical alignment; and (3) to compare joint line orientation between a cohort of patients with prearthritic constitutional varus and a cohort of patients with established symptomatic varus arthritis.
Methods
Full-leg standing hip-to-ankle digital radiographs were performed in 248 young healthy individuals and 532 patients with knee arthritis. Hip-knee-ankle (HKA) angle and tibial joint line angle (TJLA) were measured in the coronal plane. Patients were subdivided into varus (HKA ≤ −3°), neutral, and valgus (HKA ≥ 3°).
Results
The mean TJLA in healthy subjects was 0.3° (SD 2.0°). TJLA was parallel to the floor in healthy subgroups with neutral alignment (TJLA 0.3°, SD 1.9) and constitutional varus (TJLA 0.2°, SD 2.2°). In patients with symptomatic arthritis and varus alignment, the TJLA opened medially (mean −1.9°, SD 3.5°).
Conclusions
Constitutional varus does not affect joint line orientation. Advanced medial arthritis causes divergence of the joint line from parallel to the floor. These findings influence decision-making for osteotomy and alignment in total knee arthroplasty.
Level of Evidence
Level III, therapeutic study. See Guidelines for Authors for a complete description of levels of evidence.