01.12.2014 | Research article | Ausgabe 1/2014 Open Access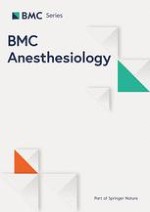 Consumption of Cisatracurium in different age groups, using a closed loop computer controlled system
Zeitschrift:
Autoren:

Shehzaad Joomye, Donglai Yan, Haiyun Wang, Guoqiang Zhou, Guolin Wang
Wichtige Hinweise
Electronic supplementary material
The online version of this article (doi:
10.​1186/​1471-2253-14-29
) contains supplementary material, which is available to authorized users.
Competing interests
The authors declare that they have no competing interests.
Authors' contributions
SJ helped design the study, conduct the study, analyze the data, and write an initial draft of manuscript. DY recruited the patients, performed many of measurements, data analysis, and manuscript revisions. HW contributed to study design, patient recruitment, data analysis, and manuscript preparation. GZ contributed to patient recruitment, data collection and analysis, and manuscript preparation. GWdesigned the study, collected and analyzed the data, and revised the manuscript. All authors read and approved the final manuscript.
Abstract
Background
We devised this study to quantify the effect of age on the consumption of cisatracurium under general anaesthesia, using a computer controlled closed loop infusion system. We further investigated this effect on, sufentanil and propofol consumption.
Methods
74 patients of physical status I and II, requiring general anaesthesia for elective abdominal surgery, were assigned to three groups. Patients in group 1 were aged from 20 to 45, group 2 were from 46 to 64, and group 3 above 65 years old. General Anesthesia was maintained with propofol and muscle paralysis was maintained using a closed-loop computer controlled infusion of cisatracurium. For analgesia, intermittent bolus of sufentanil 10 μg was given.
Results
Cisatracurium consumption in group 1, 2 and 3 were 1.8 ± 0.3, 1.6 ± 0.4 and 1.3 ± 0.4 μg/kg/min respectively. There was significant difference of cisatracurium consumption between group 1 and 3 (P = 0.002), and the consumption of cisatracurium in group 3 was less as compared with group 2 (P = 0.04). The average recovery index of patients in group 1, 2 and 3 were 8.8 ± 2.6, 11.5 ± 2.9 and 12.7 ± 2.5 minutes respectively. There were difference between group 1 and 2 (P = 0.02). As compared with group 1, the recovery index was still longer in group 3 (P = 0.001). Patients in group 1, 2 and 3 consumed an average sufentanil 0.4 ± 0.1, 0.4 ± 0.1 and 0.3 ± 0.1 μg/kg/hr, respectively. There were statistical significant between group 1 and 3 (P < 0.0001), and the same trend was found between group 2 and 3 (P = 0.03). The Consumption of propofol in group 1, 2 and 3 were 5.1 ± 0.4, 4.3 ± 0.6 and 3.1 ± 0.5 mg/kg/hr. The difference in the propofol consumption was found statistically significant when comparing between any two groups.
Conclusion
We concluded that the sensitivity of anesthetic agents increased with age. Less medication was required to achieve a desirable effect in older patients specially those above 65 years of age, and the drug effect was prolonged.