01.12.2017 | Case report | Ausgabe 1/2017 Open Access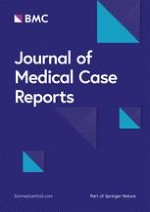 Continuous diphenhydramine infusion and imatinib for KIT-D816V-negative mast cell activation syndrome: a case report
Zeitschrift:
Autoren:

Faizan Malik, Naveed Ali, Syed Imran Mustafa Jafri, Ali Ghani, Mohsin Hamid, Margot Boigon, Christian Fidler
Background
Mast cell activation syndrome (MCAS) is characterized by recurrent symptoms of mast cell activation in combination with objective evidence of mast cell mediator release. The clinical features include flushing, pruritus, abdominal pain, diarrhea, hypotension, syncope, and musculoskeletal pain. The treatment options are H1 and H2 antihistamines, doxepin, cromolyn, and anti-leukotriene agents. The treatment options for refractory disease are based mainly on observational studies and case reports. More guidance from larger randomized controlled trials is needed, but in the absence of this guidance, clinicians use the available data in conjunction with their clinical expertise in the best interest of the patients. Recently, omalizumab has shown some efficacy in case reports. Maintenance steroids can be used in refractory cases but result in multiple side effects. We present the first full report of a case of MCAS treated with continuous diphenhydramine infusion (CDI), which resulted in the improvement of anaphylactic reactions and a decrease in hospital readmission. Furthermore, our patient received imatinib in the absence of the KIT-D816V mutation, which led to further improvement in her quality of life. Currently, we are trying to wean her off diphenhydramine; if successful, this attempt will be the first reported case.
Case presentation
An 18-year-old white girl with a history of MCAS presented with flushing, diarrhea, and hypotension. She had chronic swelling of her face and abdomen at baseline. She was initially stabilized by epinephrine and steroids. She experienced multiple prior episodes of anaphylactic reactions at least twice weekly for which she was evaluated in our emergency room and treated per a standard protocol in place for her given the frequency of her visits.
At age 15, she had significant asthma symptoms and was found to have a mildly elevated immunoglobulin E (IgE) level. Prior skin testing resulted in vomiting, dehydration, and hospitalization. She was diagnosed as having food protein-induced enterocolitis with severe anaphylaxis to eggs after undergoing a food challenge test. A bone marrow biopsy was inconclusive without evidence of mastocytosis and the KIT-D816V mutation. Her serum tryptase level was normal between episodes and was elevated to 26.5 ng/ml during flare ups. Her plasma prostaglandin-D2 and 24-hour urine 11 betaprostaglandin-F2 levels were markedly elevated during episodes. A C1 esterase inhibitor test was negative.
She was previously treated with steroids, multiple H1 and H2 antihistamines (diphenhydramine 300 mg daily, loratadine 10 mg daily, cetirizine 10 mg daily, fexofenadine 120 mg daily, and famotidine 80 mg daily), omalizumab (one-time dose of 300 mg), and a monoclonal antibody that inhibited IgE binding to mast cells, which unfortunately also resulted in anaphylaxis. To stress the seriousness of the situation, she had a severe anaphylactic reaction resulting in cardiac arrest with successful resuscitation.
Of interest, the University of Minnesota recommended the use of CDI based on ongoing research that had shown some efficacy. She was admitted to our intensive care unit (ICU) and started on a diphenhydramine infusion at 5 mg/hour. Then, the infusion was increased by 2 mg every 2 hours with a target goal of 15 mg/hour. This approach led to a decrease in the episode frequency to one to two times a month, which felt like a miracle to the patient. Based on ongoing research, we started imatinib at 100 mg once daily and titrated up to 400 mg once daily, because this treatment had evidence of use in patients negative for the KIT-D816V mutation. This approach led to a further increase in intervals between episodes to once every 2 to 3 months. Therefore, our patient can enjoy months before an episode occurs, which is a new scenario for this patient in particular.
Discussion
MCAS is an idiopathic mast cell disorder that is difficult to treat because no biomarkers predictive of effective therapeutics have been established. Many treatments have been shown to be helpful in various patients, but treatment in the absence of predictive biomarkers requires patience, persistence, and a methodical approach on the parts of both the patient and the physician when stepping through treatment trials until treatments that are significantly helpful are identified. Diphenhydramine has always been administered as intravenous pushes and only recently has been reported for use as an infusion for MCAS. We present a case of the success of this treatment, which has promising future outcomes.
Conclusions
MCAS is a common and potentially disabling disease. No randomized controlled trials have been performed using patients with this disease, and the therapeutic data are all anecdotal. All such cases should be reported to increase awareness about possible therapeutics. We provided novel therapies for our patient that led to a promising outcome.
Availability of data and materials
All data generated or analyzed during this study are included in this published article. The data used for comparison with this study were obtained from PubMed.
Authors' contributions
FM was the first and corresponding author. FM and NA prepared the final manuscript. All authors contributed to data collection. CF supervised all of the steps. All authors read and approved the final manuscript.
Competing interests
The authors declare that they have no competing interests.
Consent for publication
Written informed consent was obtained from the patient for publication of this case report and any accompanying images. A copy of the written consent is available for review by the Editor-in-Chief of this journal.
Ethics approval and consent to participate
The institutional review board waived the consent.
Publisher's Note
Springer Nature remains neutral with regard to jurisdictional claims in published maps and institutional affiliations.
Open Access
This article is distributed under the terms of the Creative Commons Attribution 4.0 International License (
http://​creativecommons.​org/​licenses/​by/​4.​0/​
), which permits unrestricted use, distribution, and reproduction in any medium, provided you give appropriate credit to the original author(s) and the source, provide a link to the Creative Commons license, and indicate if changes were made. The Creative Commons Public Domain Dedication waiver (
http://​creativecommons.​org/​publicdomain/​zero/​1.​0/​
) applies to the data made available in this article, unless otherwise stated.