01.12.2018 | Research article | Ausgabe 1/2018 Open Access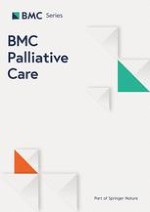 Continuous palliative sedation for patients with advanced cancer at a tertiary care cancer center
Zeitschrift:
Autoren:

Bernard Lobato Prado, Diogo Bugano Diniz Gomes, Pedro Luiz Serrano Usón Júnior, Patricia Taranto, Monique Sedlmaier França, Daniel Eiger, Rodrigo Coutinho Mariano, David Hui, Auro Del Giglio
Wichtige Hinweise
Electronic supplementary material
Abstract
Background
Palliative sedation (PS) is an intervention to treat refractory symptoms and to relieve suffering at the end of life. Its prevalence and practice patterns vary widely worldwide. The aim of our study was to evaluate the frequency, clinical indications and outcomes of PS in advanced cancer patients admitted to our tertiary comprehensive cancer center.
Methods
We retrospectively studied the use of PS in advanced cancer patients who died between March 1st, 2012 and December 31st, 2014. PS was defined as the use of continuous infusion of midazolam or neuroleptics for refractory symptoms in the end of life. This study was approved by the Research Ethics Committee of our institution (project number 2481–15).
Results
During the study period, 552 cancer patients died at the institution and 374 met the inclusion criteria for this study. Main reason for exclusion was death in the Intensive Care Unit. Among all included patients, 54.2% (
n
 = 203) received PS. Patients who received PS as compared to those not sedated were younger (67.8 vs. 76.4 years-old,
p
 < 0.001) and more likely to have a diagnosis of lung cancer (23% vs. 14%,
p
 = 0.028). The most common indications for sedation were dyspnea (55%) and delirium (19.7%) and the most common drugs used were midazolam (52.7%) or midazolam and a neuroleptic (39.4%). Median initial midazolam infusion rate was 0.75 mg/h (interquartile range – IQR - 0.6-1.5) and final rate was 1.5 mg/h (IQR 0.9–3.0). Patient survival (length of hospital stay from admission to death) of those who had PS was more than the double of those who did not (33.6 days vs 16 days,
p
 < 0.001). The palliative care team was involved in the care of 12% (
n
 = 25) of sedated patients.
Conclusions
PS is a relatively common practice in the end-of-life of cancer patients at our hospital and it is not associated with shortening of hospital stay. Involvement of a dedicated palliative care team is strongly recommended if this procedure is being considered. Further research is needed to identify factors that may affect the frequency and outcomes associated with PS.