01.12.2018 | Research | Ausgabe 1/2018 Open Access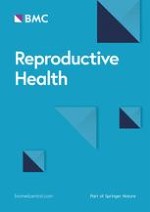 Contraception determinants in youths of Sierra Leone are largely behavioral
Zeitschrift:
Autoren:

Aline Labat, Marta Medina, Mohammed Elhassein, Afrina Karim, Mohammad B. Jalloh, Michèle Dramaix, Wei-Hong Zhang, Sophie Alexander, Kim E. Dickson
Abstract
Background
Sexual initiation occurs early in Sierra Leone. This study aims to analyze the determinants of condom and/or contraceptive use among a representative sample of young persons (10 to 24 years) in Sierra Leone.
Methods
This is a secondary analysis of data from a study conducted to monitor the implementation of a UNFPA package of interventions directed to improve SRH in young people of Sierra Leone. This assessment was conducted in 2016 at the end of the Ebola outbreak. In consequence, determinants linked to healthy lifestyle behaviors and UNFPA interventions were explored in addition to the usual determinants: socio demographic and sexual lifestyle. This study is a household quantitative survey with open ended questions used to illustrate and complete the analysis.
Results
A total of 1409 young people were interviewed: of these, 216 boys and 381 girls were sexually active. Those who were pregnant or wished for pregnancy were excluded, leaving 194 boys and 268 girls for the analysis of determinants. The proportion of young people using neither condom nor other contraception at their last sexual intercourse in the whole sample was 40.5% and there was no statistically significant difference between boys and girls (42.3 vs 39.2;
P
= 0.504). Determinants were assessed and, after multivariable analysis, results differed between boys and girls and showed the importance of behavioral aspects. Four determinants were common to boys and girls: literacy, distance, negotiation capacity and hand washing. However, the distance factor for girls was to the health facility and for boys it was to school. Three more determinants remained in the boy's model: sleeping under a bednet, number of sexual partners and knowledge of contraceptive methods. Opinions about condoms and contraception revealed important barriers; opposition to contraceptive use was the main reason for non-use for both boys and girls, while lack of access was an important reason for boys.
Conclusion
There is a need to reach out to the 40% of young people who are sexually active and neither pregnant nor with pregnancy desire, and are not using condom or contraception.