01.12.2018 | Research | Ausgabe 1/2018 Open Access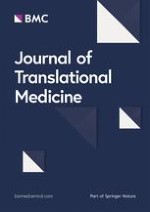 Contribution of TLR4 signaling in intermittent hypoxia-mediated atherosclerosis progression
Zeitschrift:
Autoren:

Xianqin Zeng, Rong Guo, Mei Dong, Julia Zheng, Huili Lin, Huixia Lu
Abstract
Background
Intermittent hypoxia (IH), a typical character of obstructive sleep apnea (OSA), is related to atherogenesis. However, the role of IH on atherosclerosis (AS) progression and the mechanisms involved remains poorly understood.
Methods
In the present study, high-fat fed ApoE−/− mice were treated with recombinant shRNA-TLR4 lentivirus and exposed to IH. Atherosclerotic lesions on the en face aorta and cross-sections of aortic root were examined by Oil-Red O staining. The content of lipids and collagen of aortic root plaques were detected by Oil-Red O staining and Sirius red staining, respectively. The TLR4, NF-κB p65, α-SMA and MOMA-2 expression in aorta and IL-6 and TNF-α expression in the mice serum were also detected.
Results
Compared with the Sham group, the IH treated group further increased atherosclerotic plaque loads and plaque vulnerability in the aortic sinus. Along with increased TLR4 expression, enhanced NF-κB activation, inflammatory activity and aggravated dyslipidemia were observed in the IH treated group. TLR4 interference partly inhibited IH-mediated AS progression with decreased inflammation and improved cholesterol levels. Similarly, in endothelial cells, hypoxia/reoxygenation exposure has been shown to promote TLR4 expression and activation of proinflammatory TLR4/NF-κB signaling, while TLR4 interference inhibited these effects.
Conclusions
We found that the IH accelerated growth and vulnerability of atherosclerotic plaque, which probably acted by triggering the activation of proinflammatory TLR4/NF-κB signaling. These findings may suggest that IH is a risk factor for vulnerable plaque and provide a new insight into the treatment of OSA-induced AS progression.