30.11.2016 | Review | Sonderheft 2/2016 Open Access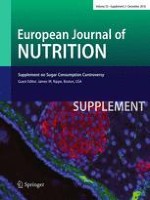 Controversies about sugars: results from systematic reviews and meta-analyses on obesity, cardiometabolic disease and diabetes
Zeitschrift:
Autoren:

Tauseef A. Khan, John L. Sievenpiper
Wichtige Hinweise
This article belongs to a supplement sponsored by Rippe Health.
This paper was previously presented by JLS in the session 'Controversies about sugar consumption' at the 12th European Nutrition Conference FENS 2015, Berlin, Germany, 21 October 2015.
Abstract
Fructose-containing sugars are a focus of attention as a public health target for their putative role in obesity and cardiometabolic disease including diabetes. The fructose moiety is singled out to be the primary driver for the harms of sugars due to its unique endocrine signal and pathophysiological role. However, this is only supported by ecological studies, animal models of overfeeding and select human intervention studies with supraphysiological doses or lack of control for energy. The highest level of evidence from systematic reviews and meta-analyses of controlled trials has not shown that fructose-containing sugars behave any differently from other forms of digestible carbohydrates. Fructose-containing sugars can only lead to weight gain and other unintended harms on cardiometabolic risk factors insofar as the excess calories they provide. Prospective cohort studies, which provide the strongest observational evidence, have shown an association between fructose-containing sugars and cardiometabolic risk including weight gain, cardiovascular disease outcomes and diabetes only when restricted to sugar-sweetened beverages and not for sugars from other sources. In fact, sugar-sweetened beverages are a marker of an unhealthy lifestyle and their drinkers consume more calories, exercise less, smoke more and have a poor dietary pattern. The potential for overconsumption of sugars in the form of sugary foods and drinks makes targeting sugars, as a source of excess calories, a prudent strategy. However, sugar content should not be the sole determinant of a healthy diet. There are many other factors in the diet—some providing excess calories while others provide beneficial nutrients. Rather than just focusing on one energy source, we should consider the whole diet for health benefits.