01.12.2017 | Research | Ausgabe 1/2017 Open Access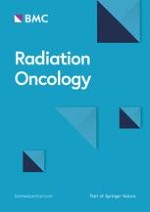 Conventional fractionation should not be the standard of care for T2 glottic cancer
Zeitschrift:
Autoren:

Lynne M. Dixon, Catriona M. Douglas, Shazril Imran Shaukat, Kate Garcez, Lip Wai Lee, Andrew J. Sykes, David Thomson, Nicholas J. Slevin
Abbreviations
BED
Biologically effective dose
TLM
Transoral Laser Microsurgery
Background
Larynx cancer accounts for 2.4% of all cancers [
1
]. Early glottic larynx cancers (T1–2N0) have similar local control rates when treated with radiotherapy or surgery [
2
]. Due to potential for superior voice quality following treatment, the general approach would be for primary radiotherapy, with conservative surgery in reserve [
3
].
The 5-year local control rates for T1 glottic cancer treated with radiotherapy are 85 to 95%, with ultimate control (where salvage surgery required) between 95 and 100% [
4
–
6
]. For T2 glottic cancer treated with radiotherapy the 5-year local control rates are 65–85%, and 75–95% following surgical salvage [
7
,
8
]. Using conventionally fractionated radiotherapy and international standard radical head and neck radiotherapy regimen of 70 Gray (Gy) delivered in 2 Gy per fraction over 7 weeks, the local control rate for T2 glottic cancer is only approximately 70% (Table
1
). Reports from various alternative fractionation schedules including our presented data, suggest improved local control, with no increase in late effects [
9
,
10
].
Here we report our local control and survival outcomes and toxicity data using an accelerated hypofractionated radiotherapy schedule. Our cohort received 52.5 Gy in 3.28 Gy per fraction, with an overall treatment time of 22 days. Royal College of Radiologists guidance now recommends hypofractionated regimes for the treatment of early glottic cancers, and our current practice has changed to 55 Gy in 2.75 Gy per fraction, in line with these guidelines [
11
]. This review highlights the importance of hypofractionation, and shorter overall treatment times, in improving outcomes for T2 glottic cancers. We compare the biologically effective dose (BED) for hypofractionated and conventional radiotherapy regimes, and determine the dose-response gradient for T2 glottic cancers. We also discuss consideration of surgical treatment options or chemoradiotherapy for T2b tumours.
Methods
Patients were treated between January 1999 and December 2005. The inclusion criteria were a histologically confirmed AJCC T2N0 squamous cell carcinoma of the glottic larynx, with radiotherapy as the primary treatment modality. Exclusion criteria were not completing the full course of treatment, or prior radical surgery. All patients had computed tomography (CT) scans for staging and nodal evaluation, and endoscopic assessments were used for local staging. Ultrasound scans were not routinely used. All patients were staged using TNM 7th [
12
].Patient records were analysed to determine patient, treatment and tumour factors.
Radiotherapy was delivered as a single phase treatment, using lateral parallel opposed or anterior oblique paired fields, as previously described [
13
]. Anterior oblique fields were used for small volume T2a tumours, while lateral fields were used for larger volume and T2b tumours. There was no elective nodal irradiation, however lateral fields would have coincidentally encompassed part of level 3 nodal regions at the level of the larynx. Field sizes were 5.5–7 cm in cranio-caudal length. All patients received accelerated hypofractionated radiotherapy, with a prescribed dose of 52.5 Gy in 16 once daily fractions of 3.28 Gy, Monday–Friday over 3 weeks. None of the patients in our cohort received any induction, concurrent or adjuvant chemotherapy.
The primary outcome measures were 5-year overall survival (OS), 5-year local control (LC), and 5-year disease specific survival (DSS). Secondary outcome measures were severe morbidity, defined by the Common Terminology Criteria for Adverse Events, as Grade 4 laryngeal oedema, mucositis or obstruction [
14
]. Outcome data was collected a minimum of 2 years following start of radiotherapy, and all times to events were calculated in days from the start of radiotherapy. Kaplan-Meier curves were used for survival, and compared using the log-rank test. The factors analysed for survival and disease free survival were age, sex, pre-treatment haemoglobin, cord mobility (T2a normal and T2b impaired mobility), smoking status and alcohol intake.
Results
Patient demographics
Between January 1999 and December 2005, 112 patients were treated for T2N0 glottic squamous cell carcinoma. There were 98 (88%) males and median age was 64 (range, 38–85 years). Seventy-six patients (68%) were staged as T2a, and 36 (32%) had T2b disease, as shown in Table
2
.
Table 2
Prognostic factors for 5-year local control
Factor

Subgroup

Number (%)

5-year LC

% (95% CI)

Sex

Male

98 (88)

84.8% (75.5–90.8)

0.20

Female

14 (13)

70.0% (38.3–87.6)

Age (years)

<65

58 (52)

73.2% (59.9–82.9)

0.003

≥65

54 (48)

93.9% (82.3–98.0)

Stage

2a

76 (68)

88.8% (79.0–94.2)

0.032

2b

36 (32)

70.8% (52.4–83.1)

Haemoglobin (g/dl)

<13

42 (38)

89.4% (74.2–95.9)

0.46

≥13

60 (54)

81.1% (68.3–89.1)

Unknown

10 (9)

Smoker

Current/ex <1 yr

46 (41)

79.0% (63.6–88.4)

0.42

Ex ≥ 1 year/never

64 (57)

87.0% (75.6–93.3)

Unknown

2 (2)

Alcohol

Low/no alcohol

69 (62)

82.5% (70.6–89.9)

0.41

Heavy/previous heavy

29 (26)

89.6% (71.0–96.5)

Unknown

14 (13)
Although 5-year LC in smokers was worse than that for non-smokers, this was not statistically significant (78% vs 87%,
p
= 0.42). Younger patients aged under 65 did significantly worse than older patients, with inferior 5-year LC (73% vs 94%,
p
= 0.003).
Survival
The median follow up was 5.8 years (range 0.1–9.6 years). All but four cases were followed up for at least 3 years, or had disease recurrence before that point. Nineteen (17%) patients developed recurrence, of these 11 (9%) were within the radiotherapy field, 4 (4%) were nodal recurrence alone, and 4 (4%) were both in field and nodal recurrences. There were 18 (16%) patients who developed second malignancies in the lung, kidney or bladder.
The 5-year OS was 67%, 5-year LC was 82%, and 5-year DSS was 90%. The respective 5-year LC rate for T2a and T2b disease was 88.8 and 70.8% (
p
= 0.032). Age less than 65 years was associated with poorer outcome, 5-year LC of 73.2%, compared with 93.9% in those aged 65 or over (
p
= 0.003), as shown in Table
2
.
Post treatment morbidity
There was a low rate of severe late morbidity (defined as requiring surgical intervention); 2 (1.8%) patients who required a tracheostomy or total laryngectomy. Twelve (10.7%) patients had a total laryngectomy for disease recurrence.
Discussion
Conclusion
An accelerated hypofractionated radiotherapy schedule of 52.5 Gy in 16 once daily fractions for T2N0 glottic larynx cancer resulted in a 5-year local control rate of 82%. There was a low rate of severe late toxicity, which required surgical intervention.
Recent national guidelines acknowledge that for early glottic cancers, hypofractionated radiotherapy schedules have equivalent outcomes to conventional fractionation, without any increase in toxicity, and therefore suggest using regimes with fraction sizes between 2.65 and 3.25 Gy [
20
]. Our work supports this recommendation, and we suggest that for early glottic larynx cancers treated using small radiation volumes, hypofractionated radiation schedules are considered the standard of care.
Acknowledgements
Not applicable.
Availability of data and materials
The datasets used and/or analysed during the current study are available from the corresponding author on reasonable request.
Ethics approval and consent to participate
Not applicable.
Consent for publication
Not applicable.
Competing interests
The authors declare that they have no competing interests.
Publisher's Note
Springer Nature remains neutral with regard to jurisdictional claims in published maps and institutional affiliations.
Open Access
This article is distributed under the terms of the Creative Commons Attribution 4.0 International License (
http://​creativecommons.​org/​licenses/​by/​4.​0/​
), which permits unrestricted use, distribution, and reproduction in any medium, provided you give appropriate credit to the original author(s) and the source, provide a link to the Creative Commons license, and indicate if changes were made. The Creative Commons Public Domain Dedication waiver (
http://​creativecommons.​org/​publicdomain/​zero/​1.​0/​
) applies to the data made available in this article, unless otherwise stated.