01.12.2014 | Case report | Ausgabe 1/2014 Open Access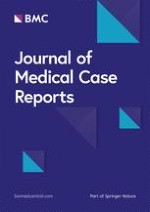 Convulsions during cataract surgery under peribulbar anesthesia: a case report
Zeitschrift:
Autoren:

Mustapha Bensghir, Najlae Badou, Abdelhafid Houba, Hicham Balkhi, Charki Haimeur, Hicham Azendour
Wichtige Hinweise
Competing interests
The authors declare that they have no competing interests.
Authors' contributions
MB, NB and AH analyzed and interpreted the patient data. MB and NB were major contributors in writing the manuscript. HB, CH and HA made the final corrections. All authors read and approved the final manuscript.
Abstract
Introduction
Locoregional anesthesia techniques are increasingly used for cataract surgery. From these techniques, peribulbar anesthesia has been very successful over the retrobulbar anesthesia seen its effectiveness and safety. However, peribulbar anesthesia is not without risk.
Case presentation
A 70-year-old African man was scheduled for cataract surgery and lens implant for his right eye. His medical history included hypertension, diabetes mellitus and gall bladder surgery. There were no personal or family antecedents of allergy, epilepsy or taking food or toxic drug. No abnormalities were detected in his preoperative evaluation. In the operating room, standard monitoring was installed and a peripheral venous catheter 18g was inserted. Peribulbar anesthesia was realized with two injections in primary gaze position. The anesthetic mixture contained lidocaine 2% and bupivacaine 0.5%. The needle used was 25GA, 19mm, ¾ inch. The first injection was performed in his lower temporal peribulbar space with 5mL of mixture; the second injection was performed with 3mL of mixture in his upper nasal peribulbar space. These injections were performed after a negative aspiration test and followed by manual compression of his globe for 5 minutes. Five minutes after peribulbar anesthesia, his blood pressure increased to 209/115mmHg requiring three bolus of nicardipine (3.0mg) to reduce his blood pressure to 134/56mmHg. One minute after, he had generalized tonic–clonic seizures. Tracheal intubation was performed. His capillary blood glucose was 170mg/dL, axillary temperature was 36.5°C, and his serum electrolytes were normal. He recovered spontaneous ventilation 1.5 hours later. A neurological examination noted no deficit. Extubation was performed 15 minutes later without incident. A brain computed tomography and electroencephalogram were unremarkable. He was discharged on the second day and operated on 1 month later under general anesthesia.
Conclusions
Various serious complications can occur during locoregional anesthesia techniques in ophthalmic surgery. The mastering and perfecting of these techniques by practitioners and compliance with safety standards in anesthesia are the only way to guarantee the prevention of such complications.