01.12.2014 | Research | Ausgabe 1/2014 Open Access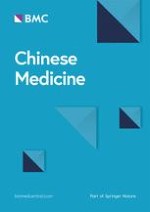 Cordyceps cicadae induces G2/M cell cycle arrest in MHCC97H human hepatocellular carcinoma cells: a proteomic study
Zeitschrift:
Autoren:

Hualin Wang, Jing Zhang, Wai-Hung Sit, Chung-Yung Jetty Lee, Jennifer Man-Fan Wan
Wichtige Hinweise
Electronic supplementary material
The online version of this article (doi:
10.​1186/​1749-8546-9-15
) contains supplementary material, which is available to authorized users.
Competing interests
The authors declare that they have no competing interests.
Authors' contributions
HW and JMFW conceived and designed the study. HLW, ZJ and WHS performed experiments. HLW performed data analysis. HW, CYJL and JMFW wrote the manuscript. All authors read and approved the final version of the manuscript.
Abstract
Background
Cordyceps cicadae
is a medicinal fungus that is often used for treating cancer. However, the anticancer mechanisms of
C. cicadae
are largely unknown. This study aims to investigate the anticancer mechanisms of
C. cicadae
against hepatocellular carcinoma cells
in vitro
using a proteomic approach.
Methods
Human hepatocellular carcinoma MHCC97H cells were treated with a water extract of
C. cicadae
(0, 100, 250, 500, and 1000 μg/mL) for 48 h and harvested for cell viability assays. The significant differences in protein expression between control and
C. cicadae
-treated cells were analyzed by two-dimensional gel-based proteomics coupled with matrix-assisted laser desorption ionization-time of flight mass spectrometry. Flow cytometry analysis was employed to investigate the cell cycle and cell death. The anticancer molecular mechanism was analyzed by whole proteome mapping.
Results
The water extract of
C. cicadae
(0, 100, 250, 500, and 1000 μg/mL) inhibited the growth of MHCC97H cells in a dose-dependent manner
via
G2/M phase cell cycle arrest with no evidence of apoptosis. Among the identified proteins with upregulated expression were dynactin subunit 2, N-myc downstream-regulated gene 1, heat shock protein beta-1, alpha-enolase isoform 1, phosphatidylinositol transfer protein, and WD repeat-containing protein 1. Meanwhile, the proteins with downregulated expression were 14-3-3 gamma, BUB3, microtubule-associated protein RP/EB family member 1, thioredoxin-like protein, chloride intracellular channel protein 1, ectonucleoside triphosphate diphosphohydrolase 5, xaa-Pro dipeptidase, enoyl-CoA delta isomerase 1, protein-disulfide isomerase-related chaperone Erp29, hnRNP 2H9B, peroxiredoxin 1, WD-40 repeat protein, and serine/threonine kinase receptor-associated protein.
Conclusion
The water extract of
C. cicadae
reduced the growth of human hepatocellular carcinoma MHCC97H cells
via
G2/M cell cycle arrest.