01.09.2019 | Cardiac Computed Tomography (B Chow and G Small, Section Editors) | Ausgabe 9/2019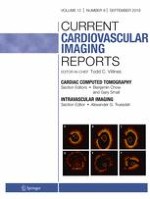 Coronary Artery Calcium Scoring in 2019: Past, Present, and Future
Zeitschrift:
Autoren:

Ramzi Dudum, Omar Dzaye, Steven J. Lahti, Sina Kianoush, Seamus P. Whelton, Michael J. Blaha
Wichtige Hinweise
This article is part of the Topical Collection on
Cardiac Computed Tomography
Publisher's Note
Springer Nature remains neutral with regard to jurisdictional claims in published maps and institutional affiliations.
Abstract
Purpose of Review
In this review, we sought to present a clinically relevant history of coronary artery calcium (CAC) scoring from its initial introduction, to its more recent widespread adoption and guideline endorsement, to future directions of cutting-edge CAC research.
Recent Findings
Since prior exhaustive reviews on CAC scoring, the introduction of the Pooled Cohort Equations (PCEs) for the assessment of atherosclerotic cardiovascular disease (ASCVD) risk has been formative in reframing how clinicians discuss risk and prevention with their patients. However, given weaknesses in the performance of the PCEs, additional risk markers have been tested with none being equal to CAC scoring with its ability to reclassify risk. The use of CAC = 0 as a negative risk factor has proven reliable in diverse populations and has led to increased adoption of CAC scoring by clinical practice guidelines. Newer data explores how CAC scoring can be employed for the quantification of risk in different diseases including modeling the competing risks of ASCVD vs. cancer, how CAC can reclassify risk even on non-ECG gated chest computed tomography, and how the algorithm for scoring a CAC scan can be improved in the future.
Summary
CAC scoring is a powerful adjunct to the PCEs in further characterizing risk, particularly in borderline to intermediate-risk populations. Newer studies suggest that CAC scoring can be adapted to non-ECG gated chest CTs and that newer CAC scores, which take into consideration the number of vessels, the diffusivity of disease, and important gender-specific interactions, can improve on the traditional Agatston method. Future research will continue to explore these newer areas as well as provide models for forecasting the lifetime risks of ASCVD vs. cancer based on age and sex-specific CAC scores.