01.12.2018 | Case report | Ausgabe 1/2018 Open Access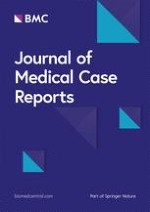 Coronary artery fistula with associated Takotsubo cardiomyopathy: a case report
Zeitschrift:
Autoren:

Rabail Qureshi, Leo Kao, Rakesh P. Gupta
Abstract
Background
Coronary artery fistula, first described by Krause in 1865, is an abnormal communication between the coronary artery and one of the four chambers of the heart or one of the great vessels. The communications are often congenital but may also be acquired from trauma or invasive cardiovascular procedures. Half of the cases present with angina pectoris whereas the remaining half are incidentally detected on echocardiogram or angiogram performed for an unrelated reason.
Takotsubo cardiomyopathy or stress-induced cardiomyopathy is characterized by transient left ventricular dysfunction with minimal elevation of cardiac biomarkers in the absence of underlying coronary artery disease. Almost 90% of reported patients are postmenopausal women with a history of recent emotional or physical stress.
Case presentation
We report an unusual case of a 64-year-old Hispanic woman presenting with typical symptoms suggestive of acute coronary syndrome after an extreme familial conflict. There was mild troponin elevation. Cardiac catheterization revealed microfistulas originating from the third portion of the left anterior descending artery draining to the left ventricular cavity. The ventriculogram demonstrated the apical ballooning. We postulate that high local concentration of catecholamine triggered by stress resulted in angina pectoris due to worsening coronary steal from the coronary fistula. Also, the stress-induced adrenergic stimulation unmasked the classical akinetic apex and apical ballooning characteristic of Takotsubo cardiomyopathy.
Conclusions
This case report highlights the rare but important association between two uncommon conditions. To the best of our knowledge, only one similar case has been reported describing a patient with microfistulas to left ventricular cavity and concurrent Takotsubo cardiomyopathy.