01.10.2011 | Cardiac | Ausgabe 10/2011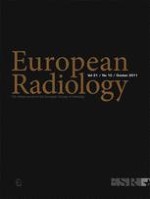 Coronary CT angiography: image quality, diagnostic accuracy, and potential for radiation dose reduction using a novel iterative image reconstruction technique—comparison with traditional filtered back projection
Zeitschrift:
Autoren:

Antonio Moscariello, Richard A. P. Takx, U. Joseph Schoepf, Matthias Renker, Peter L. Zwerner, Terrence X. O'Brien, Thomas Allmendinger, Sebastian Vogt, Bernhard Schmidt, Giancarlo Savino, Christian Fink, Lorenzo Bonomo, Thomas Henzler
Abstract
Objectives
To compare image noise, image quality and diagnostic accuracy of coronary CT angiography (cCTA) using a novel iterative reconstruction algorithm versus traditional filtered back projection (FBP) and to estimate the potential for radiation dose savings.
Methods
Sixty five consecutive patients (48 men; 59.3 ± 7.7 years) prospectively underwent cCTA and coronary catheter angiography (CCA). Full radiation dose data, using all projections, were reconstructed with FBP. To simulate image acquisition at half the radiation dose, 50% of the projections were discarded from the raw data. The resulting half-dose data were reconstructed with sinogram-affirmed iterative reconstruction (SAFIRE). Full-dose FBP and half-dose iterative reconstructions were compared with regard to image noise and image quality, and their respective accuracy for stenosis detection was compared against CCA.
Results
Compared with full-dose FBP, half-dose iterative reconstructions showed significantly (
p
 = 0.001 –
p
 = 0.025) lower image noise and slightly higher image quality. Iterative reconstruction improved the accuracy of stenosis detection compared with FBP (per-patient: accuracy 96.9% vs. 93.8%, sensitivity 100% vs. 100%, specificity 94.6% vs. 89.2%, NPV 100% vs. 100%, PPV 93.3% vs. 87.5%).
Conclusions
Iterative reconstruction significantly reduces image noise without loss of diagnostic information and holds the potential for substantial radiation dose reduction from cCTA.