01.12.2012 | Research | Ausgabe 1/2012 Open Access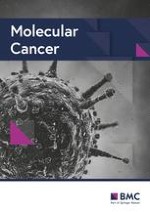 Coronin 3 promotes gastric cancer metastasis via the up-regulation of MMP-9 and cathepsin K
Zeitschrift:
Autoren:

Gui Ren, Qifei Tian, Yanxin An, Bin Feng, Yuanyuan Lu, Jie Liang, Kai Li, Yulong Shang, Yongzhan Nie, Xin Wang, Daiming Fan
Wichtige Hinweise
Electronic supplementary material
The online version of this article (doi:
10.​1186/​1476-4598-11-67
) contains supplementary material, which is available to authorized users.
Gui Ren, Qifei Tian, Yanxin An contributed equally to this work.
Competing interests
The authors have no financial or non-financial competing interest to declare.
Authors' contributions
GR, QT and YA carried out most of the experiments. BF and YL carried out statistical analysis. JL, YS discussed the design of the experiments, the results and assisted in writing. GR, YN, XW and DF designed the experiments and participated in writing the manuscript. All authors read and approved the final manuscript.
Abstract
Background
Coronins are a family of highly evolutionary conserved proteins reportedly involved in the regulation of actin cytoskeletal dynamics, although only coronin 3 has been shown to be related to cancer cell migration. In glioblastoma cells, the knockdown of coronin 3 inhibits cell proliferation and invasion. Coronin 3 is also associated with the aggression and metastasis of hepatocellular carcinoma. In this paper, we analyze the migration, invasion and metastasis abilities of gastric cancer cells after up- or down-regulation of coronin 3, and explore the mechanism of coronin 3 in the process of gastric cancer metastasis.
Results
The expression of coronin 3 was higher in the highly metastatic sub-cell line MKN28-M, which we established in our laboratory. We also demonstrated that the expression of coronin 3 was remarkably higher in lymph lode metastases than in primary gastric cancer tissues, and over-expression of coronin 3 was correlated with the increased clinical stage and lymph lode metastasis. Recombinant lentiviral vectors encoding shRNAs were designed to down-regulate coronin 3 expression in gastric cancer cell lines. Stable knockdown of coronin 3 by this lentiviral vector could efficiently inhibit the migration and invasion of MKN45 gastric cancer cells. In contrast, up-regulation of coronin 3 significantly enhanced migration and invasion of MKN28-NM cells. In addition, knockdown of coronin 3 significantly reduced liver metastasis in mice after tail vein injection of gastric cancer cells. The Human Tumor Metastasis PCR Array was used to screen the metastasis-associated genes identified by the down-regulation of coronin 3, and the results suggested that, following the knockdown of coronin 3, the tumor cell migration and invasion were inhibited by the reduced expression of MMP-9 and cathepsin K.
Conclusion
Coronin 3 is highly expressed in gastric cancer metastases and can promote the metastatic behaviors of gastric cancer cells, including their migration and invasion.