01.04.2019 | Original Article | Ausgabe 2/2019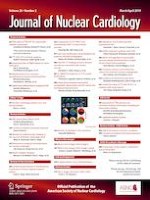 Corrected coronary opacification decrease from coronary computed tomography angiography: Validation with quantitative 13N-ammonia positron emission tomography
Zeitschrift:
Autoren:

MD Dominik C. Benz, MD Christoph Gräni, MD Paola Ferro, Luis Neumeier, MD Michael Messerli, MD Mathias Possner, MD Olivier F. Clerc, MD Catherine Gebhard, MD Oliver Gaemperli, MD Aju P. Pazhenkottil, MD Philipp A. Kaufmann, MD Ronny R. Buechel
Wichtige Hinweise
Electronic supplementary material
The online version of this article (doi:
10.​1007/​s12350-017-0980-2
) contains supplementary material, which is available to authorized users.
The authors of this article have provided a PowerPoint file, available for download at SpringerLink, which summarizes the contents of the paper and is free for re-use at meetings and presentations. Search for the article DOI on
SpringerLink.​com
.
Dominik C. Benz and Christoph Gräni share first authorship; Philipp A. Kaufmann and Ronny R. Buechel share last authorship
Abstract
Background
To assess the functional relevance of a coronary artery stenosis, corrected coronary opacification (CCO) decrease derived from coronary computed tomography angiography (CCTA) has been proposed. The present study aims at validating CCO decrease with quantitative 13N-ammonia positron emission tomography (PET) myocardial perfusion imaging (MPI).
Methods and Results
This retrospective study consists of 39 patients who underwent hybrid CCTA/PET-MPI. From CCTA, attenuation in the coronary lumen was measured before and after a stenosis and corrected to the aorta to calculate CCO and its decrease. Relative flow reserve (RFR) was calculated by dividing the stress myocardial blood flow (MBF) of a vessel territory subtended by a stenotic coronary by the stress MBF of the reference territories without stenoses. RFR was abnormal in 11 vessel territories (27%). CCO decrease yielded a sensitivity, specificity, negative predictive value, positive predictive value, and accuracy for prediction of an abnormal RFR of 73%, 70%, 88%, 47%, and 70%, respectively.
Conclusions
CCTA-derived CCO decrease has moderate diagnostic accuracy to predict an abnormal RFR in PET-MPI. However, its high negative predictive value to rule out functional relevance of a given lesion may confer clinical implications in the diagnostic work-up of patients with a coronary stenosis.