23.08.2017 | Original Article | Ausgabe 3/2017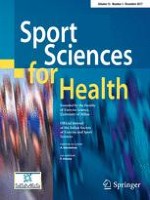 Correlates and pattern of physical activity among urban and suburban Iranian adults: a population-based study
Zeitschrift:
Autoren:

Leila Nikniaz, Zeinab Nikniaz, Jafar Sadegh Tabrizi, Homayoun Sadeghi-Bazargani, Mostafa Farahbakhsh
Abstract
Background
Considering the important role of physical activity in prevention of chronic disease, the aims of the present study were investigating the socio-demographic and lifestyle determinants and also pattern of the physical activity in urban and suburban Iranian adults.
Method
A sample of 2135 adults from suburban and urban areas of East Azerbaijan, Iran, participated in the present study. The Persian form of International Physical Activity Questionnaire was completed for evaluation of the physical activity level. The demographic characteristics including age, gender, educational level, marriage status, and residential area were recorded and BMI was calculated. The determinants of physical activity level were assessed using logistic regression.
Results
Of the study population, 28.47% were inactive, 27.96% were minimally active, and 43.55% had health-enhancing physical activity (HEPA). Residents of suburban areas (
P
< 0.001) and normal-weight adults (
P
< 0.001) were significantly more likely to participate in a high intense physical activity. Compared with men, women had significantly lower odds of being physically active [odds ratio (OR) 0.57; 95% CI 0.46–0.71]. In comparison with residents of urban areas, residents of suburban areas (OR 2.68; 95% CI 2.18–3.30) significantly had higher odds of being physically active. In women, most of the total MET-min/week occurred through walking (36.35%) and moderate intensity physical activities (53.86%). However, in men, the proportion of all domains of physical activity in men was almost equal.
Conclusion
In conclusion, it was illustrated that physical inactivity was more prevalent among obese individuals, women, and urban residents. These findings have important implications for developing physical activity promotion programs considering the individual differences.