01.12.2014 | Research article | Ausgabe 1/2014 Open Access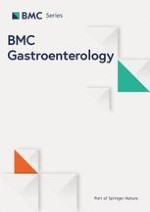 Correlation between depression, anxiety, and polymorphonuclear cells' resilience in ulcerative colitis: the mediating role of heat shock protein 70
Zeitschrift:
Autoren:

Ilias I Vlachos, Calypso Barbatis, Maria Tsopanomichalou, Lydia Abou-Assabeh, Konstantinos Goumas, Maria Ginieri-Coccossis, Marina Economou, George N Papadimitriou, Efstratios Patsouris, Polyxeni Nicolopoulou-Stamati
Wichtige Hinweise
Electronic supplementary material
The online version of this article (doi:
10.​1186/​1471-230X-14-77
) contains supplementary material, which is available to authorized users.
Competing interests
The authors declare that they have no competing interests.
Authors' contributions
IV carried out the psychometric interviews, collected the biopsies from the gastroenterologist, did the statistical analysis and wrote the manuscript draft. CB has diagnosed all biopsies and interpreted all data. MT performed all immunohistochemical staining. LAA collected specimens and data and participated with CB in diagnosis and interpretation of biopsies. CG performed the colonoscopies and provided the histological material. MGC provided the psychometric questionnaires and participated in the interpretation of psychometric results after the statistical analysis. ME contributed to the statistical analysis of the psychometric questionnaires and the interpretation of data. GNP supervised the administration and collection of the psychometric questionnaires and provided literature concerning the psychological aspects of ulcerative colitis. EP supervised the diagnosis and interpretation of all histopathological material. PNS conceived the study and has supervised the histopathology and contributed to the synthesis of the manuscript. All authors read and approved the final manuscript.
Abstract
Background
To investigate whether anxiety and depression levels are associated with Heat Shock Protein 70 (HSP70) induction in the colon of patients with ulcerative colitis (UC).
Methods
The design was cross-sectional. Clinical activity was assessed by the Rachmilewitz Index (CAI). Three psychometric questionnaires were used: Zung Depression Rating Scale (ZDRS), Spielberg State-Trait Anxiety Inventory (STAI), Hospital Anxiety and Depression Scale (HADS). Colon biopsies were obtained from each affected anatomical site. Severity of inflammation was assessed by eosin/hematoxylin. Constitutive (HSP70c) and inducible (HSP70i) HSP70 expression were immunohistochemically studied.
Results
29 UC patients were enrolled (69% men). Mean age was 46.5 years (SD: 19.5). Inflammation severity was moderate in 17 patients, severe in 6, and mild in 6. The mean number of years since diagnosis was 7.9 (SD: 6.5). The mean CAI was 6.4 (SD: 3.1). In active UC, there was downregulation of HSP70c in inflamed epithelium, without significant HSP70 induction. In 22/29 cases of active cryptitis, polymorphonuclear cells (PMN) clearly expressed HSP70i, with weak, focal positivity in the other 7 cases. Except for the hospital anxiety scale, scores in all psychometric tools were higher in patients with strong HSP70i immunoreactivity in the PMN. Logistic regression showed a strong positive relationship between HSP70i immunoreactivity in the PMN cells and scores in the trait anxiety, ZDRS, and hospital depression scales, (Odds ratios 1.3, 1.3, and 1.5; P = 0.018, 0.023, and 0.038; Wald test, 5.6, 5.2, and 4.3 respectively) and a weaker but significant positive correlation with the CAI (Odds ratio 1.654; P = 0.049; Wald test 3.858).
Conclusion
HSP70 is induced in PMN cells of UC patients and its induction correlates with depression and anxiety levels.