01.12.2019 | Research article | Ausgabe 1/2019 Open Access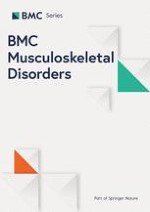 Correlation between multifidus fatty atrophy and lumbar disc degeneration in low back pain
Zeitschrift:
Autoren:

Cosmin Faur, Jenel M. Patrascu, Horia Haragus, Bogdan Anglitoiu
Wichtige Hinweise
Publisher's Note
Springer Nature remains neutral with regard to jurisdictional claims in published maps and institutional affiliations.
Abbreviations
MRI
Magnetic Resonance Imaging
PFCSA
Pure Fat Cross-Sectional Area
TMCSA
Total Muscle Cross-Sectional Area
Background
Methods
A retrospective study was conducted on 35 white Caucasian eligible patients (16 males and 19 females, out of 47 reviewed) with chronic LBP, defined as back pain lasting for more than 3 months. The exclusion criteria were spinal fractures, spinal cord injuries, spinal infections, spinal tumors, vertebral deformities such as kyphosis or scoliosis, previous lumbosacral surgery and comorbidities that are severely influencing physical activities (for instance, cerebrovascular accident or severe musculoskeletal disease). Rheumatoid conditions were not accounted for and thus included.
The DICOM files resulted from the MRI exam were visualized by using OsiriX v. 5.8.2 version (Pixmeo, Geneve, Switzerland). In this study the 2D Viewer was used. For the classification of the lumbar intervertebral disc, sagittal T2_tse data sets were used. The appropriate image of interest was selected. For viewing the LMM it was necessary to examine two vertical sets of images at the same time: sagittal and axial plane. T2_tse images were used at the level of interest: L4/L5 and L5/S1.
For qualitative image analysis we used Adobe Photoshop CS6 (Adobe Systems, San Jose California, USA). The percentage of PFCSA to TMCSA (PFCSA/TMCSA) was calculated to estimate the severity of atrophy. A higher percentage represented a more severe fatty infiltration and atrophy of the LMM. The TMCSA was measured by manually drawing the regions of interest over the boundary of the right and left LMM using a pen mouse. Next, the CSA of the pure fat component of LMM was determined within the TMCSA by the "threshold technique" based on visual differences in pixel signal intensities and measured using the histogram function. Statistical analysis was performed using multiple regression and ANOVA tests in 'R' (Project for Statistical Computing).
Results
Patients had a mean age of 47,22 ± 15,08 years and mean body mass of 87.26 kg (range 53–119). Data was collected between 17.02.2015 and 05.04.2017. Prior institutional ethical committee clearance and informed consent from patients were obtained. The disc degeneration grades and percentage of LMM fat infiltration are presented in Tables
1
and
2
.
Table 1
Grades of disc degeneration in the total study population
| Pfirrmann Grade | L4/L5 | L5/S1 | Total Discs | % |
| --- | --- | --- | --- | --- |
| I | 2 | 1 | 3 | 4.3 |
| II | 8 | 7 | 15 | 21.4 |
| III | 18 | 11 | 29 | 41.4 |
| IV | 5 | 13 | 18 | 25.7 |
| V | 2 | 3 | 5 | 7.2 |
Table 2
Categories of severity of multifidus fatty atrophy in the total study population
| Atrophy grade | L4/L5 | L5/S1 | Total Multifidus | % |
| --- | --- | --- | --- | --- |
| Normal (0–10%) | 5 | 2 | 7 | 10 |
| Mild (10–30%) | 21 | 22 | 43 | 61.4 |
| Moderate (30–50%) | 8 | 10 | 18 | 25.7 |
| Severe (> 50%) | 1 | 1 | 2 | 2.9 |
Depending on the degree of intervertebral disc degeneration, a difference between the two levels can be observed as follows: at the level L4/L5 the mean value (computed as the sum of grades divided by the number of cases = arithmetic) of Pfirrmann grade was 2.9 whereas the mean value for the level L5/S1 is 3.2. This showed a higher degree of disc degeneration in the lower levels of the vertebral column. The percentage of fat infiltration of the LMM at both studied levels showed a mean value of 22.91 ± 13.19% in L4/L5 and a higher mean value of 26.37 ± 12.89% in L5/S1. The percentage of LMM atrophy is higher at the L5/S1 level compared to L4/L5.
A higher degree of disc degeneration was observed in the male subjects (with a mean Pfirrmann grade of 3.4) compared to the female subjects (with a mean of 2.8). Differences were observed in prevalence of fat infiltration in the LMM between genders as well. The mean of fat infiltration in females was higher than in men, with a mean value of 25.62 ± 9.89% versus23.47 ± 16.14%.There was a low correlation (R = 0.37) and significant association (ANOVA,
p
 = 0.001, 95% CI 2.07–8.14) between the grade of lumbar disc degeneration and the degree of LMM fatty atrophy. Regarding the disposition of the fat atrophy at one level, it was mainly seen medially and deep in the transverse MRI scans of the lumbar spine.
Discussions
In our study we measured the TMCSA of the LMM and the amount of fat infiltration and analyzed their association with the degeneration of the intervertebral disc. The fatty atrophy was mainly seen medially and deep in the transverse MRI scans of the lumbar spine. In almost half (41%) of the of L4/L5 discs we detected a degeneration corresponding to Pfirrmann grade III. Disc degeneration at this level shows a slight predominance for the male gender with grade III disc degeneration. From the remaining half there is a clear predominance of grade II disc degeneration. Grade I discs were only found in young adults, whereas grade V discs were only detected in subjects from the middle-aged and old adult group. The CSAs of the LMM showed a predominance of mild fatty infiltration (60%). Regarding gender distribution, the percent of female patients was higher in the group with mild fatty infiltration of the LMM.
At the level of L5/S1, grade IV disc degeneration was observed in 37% of the subjects, thus representing the highest percentage at that level. Grade III disc degeneration, with a percentage of 31%, was significantly higher compared to the remaining groups. By dividing subjects with disc degeneration according to gender, it was observed that in grade IV discs there was a higher ratio of male patients compared to female patients. In grade III discs the gender distribution of patients was equal. We observed that grade I and II discs were mainly found in young adults. In discs with a higher grade of degeneration, the tendency was to shift more towards middle aged and old adults. 63% of the studied LMM at this level showed mild fatty atrophy. Moderate fat infiltration of the muscle represented the second most frequent finding. In the group with moderate fat infiltration, there is a clear predominance of the female sex. Mild LMM atrophy is predominant in young and middle-aged adults; whereas only one case of severe infiltration was found in one patient aged over 60 years.
There are many different etiologic factors including genetic and environmental factors. Multifidus atrophy increases with age. Etiological factors are multiple and reach from various neuromuscular disorders to facetogenic or discogenic reflex inhibition and dorsal ramus syndrome. Understanding if there is a correlation between lumbar degenerative disc disease and LMM fatty atrophy might provide more knowledge about the causative factors of the disorder and the mechanisms of pain generation involved, as well as help to discover new treatment options. In addition to the morphological aspect, the temporal relationship of fat infiltration needs to be addressed. It would be interesting and important to know the correlation of the time period with the amount of fat infiltration and the severity of symptoms.
Conclusion
The fatty atrophy was mainly seen medially and deep in the transverse MRI scans of the lumbar spine. The percentage of multifidus muscle atrophy is higher in the lower levels (L5/S1) and is correlated with the grade of disc degeneration.
Acknowledgements
Med. Stud. Kaspar Sebastian Kleiner for his assistance in the data collecting process.
Ethics approval and consent to participate
The study was approved by the Local Ethics commission for scientific research of Emergency Clinical County Hospital Timisoara (record number 185/19.072016). All patients participated free-willingly and with written informed consent to the study.
Consent for publication
Not applicable.
Competing interests
The authors declare that they have no competing interests.
Open Access
This article is distributed under the terms of the Creative Commons Attribution 4.0 International License (
http://​creativecommons.​org/​licenses/​by/​4.​0/​
), which permits unrestricted use, distribution, and reproduction in any medium, provided you give appropriate credit to the original author(s) and the source, provide a link to the Creative Commons license, and indicate if changes were made. The Creative Commons Public Domain Dedication waiver (
http://​creativecommons.​org/​publicdomain/​zero/​1.​0/​
) applies to the data made available in this article, unless otherwise stated.
Publisher's Note
Springer Nature remains neutral with regard to jurisdictional claims in published maps and institutional affiliations.