04.07.2016 | Original Article • KNEE - Arthroscopy | Ausgabe 6/2016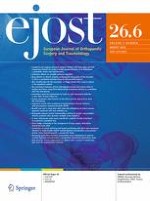 Correlation of tunnel widening and tunnel positioning with short-term functional outcomes in single-bundle anterior cruciate ligament reconstruction using patellar tendon versus hamstring graft: a prospective study
Autoren:

Udit Kumar Biswal, Gopisankar Balaji, Sandeep Nema, Murali Poduval, Jagdish Menon, Dilip Kumar Patro
Abstract
Objective
To study the correlation between tunnel widening and tunnel position with short-term functional outcomes post-ACL reconstruction with patellar tendon and hamstring autografts in young adults.
Materials and methods
A total of 33 patients who underwent ACL reconstruction between October 2013 and February 2015 were included and followed up for 6 months. A standardized surgical technique was used for each graft type. Intra-op arthroscopy findings and drilled tunnel diameters were noted. They were followed up for 3 and 6 months. Radiological assessment was done at 3 and 6 months with clinical score assessment at 6 months.
Results
At 6 months, clinical scores were comparable in both groups. Tunnel widening in both femoral and tibial tunnel at 3 and 6 months were significantly higher in STG group (
p
values <0.05). The rate of widening was higher in 0–3 months and reduced in 3–6 months. There was statistically significant negative correlation between femoral tunnel widening by CT and IKDC score at 6 months (
p
value 0.049). We found a positive correlation between posterior positioning of femoral tunnel and Lysholm and IKDC scores. The correlation with Lysholm scores was statistically significant (
p
value 0.046).
Conclusion
To conclude, tunnel widening is more with hamstrings graft. Femoral tunnel widening has significant negative correlation with that of IKDC scores at 6 months. Posterior femoral tunnel positioning and Lysholm scores at 6 months had significant correlation.