01.12.2012 | Research article | Ausgabe 1/2012 Open Access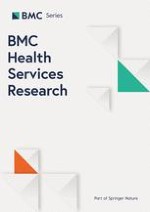 Cost-effectiveness analysis of timely dialysis referral after renal transplant failure in Spain
Zeitschrift:
Autoren:

Guillermo Villa, Emilio Sánchez-Álvarez, Jesús Cuervo, Lucía Fernández-Ortiz, Pablo Rebollo, Francisco Ortega
Wichtige Hinweise
Electronic supplementary material
The online version of this article (doi:
10.​1186/​1472-6963-12-257
) contains supplementary material, which is available to authorized users.
Competing interests
The authors declare that they have no competing interests.
Authors' contributions
GV has contributed to the conception and design of the study. He has managed the acquisition, analysis and interpretation of data, and has been also involved in drafting the manuscript. JC and LFO have participated in the design of the study and in the acquisition and interpretation of data. They have been also involved in critically revising the manuscript. ESA, PR, FO have contributed to the conception of the study and have participated in the interpretation of data. They have been also involved in critically revising the manuscript. Finally, all the authors have given final approval of the version to be published.
Abstract
Background
A cost-effectiveness analysis of timely dialysis referral after renal transplant failure was undertaken from the perspective of the Public Administration. The current Spanish situation, where all the patients undergoing graft function loss are referred back to dialysis in a late manner, was compared to an ideal scenario where all the patients are timely referred.
Methods
A Markov model was developed in which six health states were defined: hemodialysis, peritoneal dialysis, kidney transplantation, late referral hemodialysis, late referral peritoneal dialysis and death. The model carried out a simulation of the progression of renal disease for a hypothetical cohort of 1,000 patients aged 40, who were observed in a lifetime temporal horizon of 45 years. In depth sensitivity analyses were performed in order to ensure the robustness of the results obtained.
Results
Considering a discount rate of 3 %, timely referral showed an incremental cost of 211 €, compared to late referral. This cost increase was however a consequence of the incremental survival observed. The incremental effectiveness was 0.0087 quality-adjusted life years (QALY). When comparing both scenarios, an incremental cost-effectiveness ratio of 24,390 €/QALY was obtained, meaning that timely dialysis referral might be an efficient alternative if a willingness-to-pay threshold of 45,000 €/QALY is considered. This result proved to be independent of the proportion of late referral patients observed. The acceptance probability of timely referral was 61.90 %, while late referral was acceptable in 38.10 % of the simulations. If we however restrict the analysis to those situations not involving any loss of effectiveness, the acceptance probability of timely referral was 70.10 %, increasing twofold that of late referral (29.90 %).
Conclusions
Timely dialysis referral after graft function loss might be an efficient alternative in Spain, improving both patients' survival rates and health-related quality of life at an affordable cost. Spanish Public Health authorities might therefore promote the inclusion of specific recommendations for this group of patients within the existing clinical guidelines.