28.08.2018 | Original Article | Ausgabe 2/2019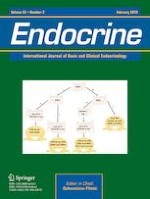 Cost-effectiveness of a primary care multidisciplinary Risk Assessment and Management Program for patients with diabetes mellitus (RAMP-DM) over lifetime
Zeitschrift:
Autoren:

Fangfang Jiao, Eric Yuk Fai Wan, Colman Siu Cheung Fung, Anca Ka Chun Chan, Sarah Morag McGhee, Ruby Lai Ping Kwok, Cindy Lo Kuen Lam
Wichtige Hinweise
Electronic supplementary material
Abstract
Purpose
The multidisciplinary Risk Assessment and Management Program for patients with diabetes mellitus (RAMP-DM) was found to be cost-saving in comparison with usual primary care over 5 years' follow-up. This study aimed to estimate the cost-effectiveness of RAMP-DM over lifetime.
Methods
We built a Discrete Event Simulation model to evaluate the cost-effectiveness of RAMP-DM over lifespan from public health service provider's perspective. Transition probabilities among disease states were extrapolated from a cohort of 17,140 propensity score matched participants in RAMP-DM and those under usual primary care over 5-year's follow-up. The mortality of patients with specific DM-related complications was estimated from a cohort of 206,238 patients with diabetes. Health preference and direct medical costs of DM patients referred to our previous studies among Chinese DM patients.
Results
RAMP-DM individuals gained 0.745 QALYs and cost US$1404 less than those under usual care. The probabilistic sensitivity analysis found that RAMP-DM had 86.0% chance of being cost-saving compared to usual care under the assumptions and estimates used in the model. The probability of RAMP-DM being cost-effective compared to usual care would be over 99%, when the willingness to pay threshold is HK$20,000 (US$ 2564) or higher.
Conclusion
RAMP-DM added to usual primary care was cost-saving in managing people with diabetes over lifetime. These findings support the integration of RAMP-DM as part of routine primary care for all patients with diabetes.