01.12.2019 | Research article | Ausgabe 1/2019 Open Access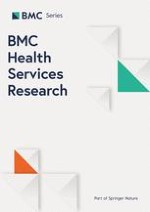 Costs of hospitalization for stroke from two urban health insurance claims data in Guangzhou City, southern China
Zeitschrift:
Autoren:

Hui Zhang, Yujie Yin, Chao Zhang, Donglan Zhang
Wichtige Hinweise
Publisher's Note
Springer Nature remains neutral with regard to jurisdictional claims in published maps and institutional affiliations.
Abstract
Background
Stroke remains a major global health problem. In China, stroke was the leading cause of death and imposed a large impact on the healthcare system. This study aimed to examine the hospitalization costs by five stroke types and the associated factors for inpatient costs of stroke in Guangzhou City, Southern China.
Methods
This was a prevalence-based, cross-sectional study. Data were obtained from urban health insurance claims database of Guangzhou city. Samples including all the reimbursement claims submitted for inpatient care with the primary diagnosis of stroke from 2006 to 2013 were identified using the International Classification of Diseases codes. Descriptive analysis and multivariate regression analysis based on the Extended Estimating Equations model were performed.
Results
A total of 114,872 hospitalizations for five stroke types were identified. The average age was 71.7 years old, 54.2% were male and 60.1% received medical treatment in the tertiary hospitals, and 92.3% were covered by the urban employee-based medical insurance. The average length of stay was 26.7 days. Among all the hospitalizations (average cost: Chinese Yuan (CNY) 20,203.1 = $3212.1), the average costs of ischaemic stroke (IS), subarachnoid haemorrhage (SAH), intracerebral haemorrhage (ICH), transient ischaemic attack (TIA), and other strokes were CNY 17,730.5, CNY 62,494.2, CNY 38,757.6, CNY 10,365.3 and CNY 18,920.6, respectively. Medication costs accounted for 42.9, 43.0 and 40.4% of the total inpatient costs among patients with IS, ICH and TIA, respectively, whereas for patients with SAH, the biggest proportion of total inpatient costs was from non-medication treatment costs (57.6%). Factors significantly associated with costs were stroke types, insurance types, age, comorbidities, severity of disease, length of stay and hospital levels. SAH was linked with the highest inpatient costs, followed by ICH, IS, other strokes and TIA.
Conclusions
The costs of hospitalization for stroke were high and differed substantially by types of stroke. These findings could provide economic evidence for evaluating the cost-effectiveness of interventions for the treatment of different stroke types as well as useful information for healthcare policy in China.