01.12.2017 | Research article | Ausgabe 1/2017 Open Access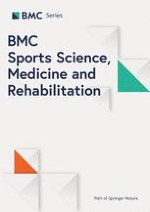 Could current factors be associated with retrospective sports injuries in Brazilian jiu-jitsu? A cross-sectional study
Zeitschrift:
Autoren:

Dayana das Graças, Letícia Nakamura, Fernando Sérgio Silva Barbosa, Paula Felippe Martinez, Filipe Abdalla Reis, Silvio Assis de Oliveira-Junior
Abstract
Background
Brazilian jiu-jitsu is characterized by musculoskeletal disorders and high occurrence of sports injuries. The present study was aimed to analyze some internal factors, as well as to describe occurrence and characteristics of retrospective musculoskeletal injuries in different age groups of Brazilian jiu-jitsu practitioners.
Methods
One hundred ninety-three Brazilian jiu-jitsu practitioners, which were divided into three age groups: Adolescent, Adult, and Master. Besides anthropometric characterization, standard clinical tests were conducted to analyze the global and segmental joint flexibility, lumbar spine range of motion, and handgrip strength. Sports injury occurrence and total physical activity were obtained from an adapted morbidity survey and International Physical Activity Questionnaire - Short Form (IPAQ-SF), respectively.
Results
A total of 247 cases of retrospective injuries was registered (1.27 injury/ participant). Occurrence of rectus femoral muscle retraction in the right leg was increased within Master. Adult and Master have exhibited higher occurrence of sports injuries than Adolescent group (
p
 < 0.05). Joint injuries were the most common sports-related injuries by all Brazilian jiu-jitsu practitioners. While female gender and exposure time constituted the most predictive variables for sports injury occurrence in Adolescent, graduation level was more associated with sports injuries occurrence in Adult.
Conclusions
Joint injuries derived from combat demands were the main sports injury in all age categories of Brazilian jiu-jitsu. Master subjects presented a higher occurrence of clinical changes and retrospective musculoskeletal injuries in relation to other age groups. Female gender and exposure time constituted the main predictive factors in adolescent subjects, while graduation category was more directly associated with retrospective injury onset in the Adult group.