28.08.2018 | Review Paper | Ausgabe 12/2018 Open Access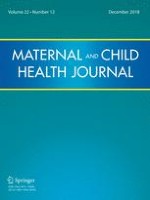 Could Postnatal Women's Groups Be Used to Improve Outcomes for Mothers and Children in High-Income Countries? A Systematic Review
Zeitschrift:
Autoren:

Catherine Sikorski, Sietske Van Hees, Monica Lakhanpaul, Lorna Benton, Jennifer Martin, Anthony Costello, Michelle Heys
Wichtige Hinweise
Catherine Sikorski and Sietske Van Hees were joint first authors.
Abstract
Introduction
Participatory postnatal women's groups have been shown to have a significant impact on maternal and neonatal mortality in low-income countries. However, it is not clear whether this approach can be translated to high-income countries (HICs). We conducted a systematic review to answer the question: "Can postnatal women's groups improve health outcomes for mothers and children in high-income countries?"
Methods
MEDLINE, EMBASE and Cochrane databases were searched for randomised controlled trials testing any group-based intervention during the postnatal period, in HICs. No limitations were applied to stated outcomes.
Results
Nine trials, including 3029 women, fulfilled the criteria. Group-based interventions, facilitated by health professionals, ranged from didactic to participant-led. Three trials addressed postnatal depression, one addressed physical activity, whilst the remainder looked at multiple health or social outcomes. Three trials reported a significant association between their intervention and at least one outcome measure. Study limitations included poor and inequitable intervention uptake, low participant retention, small sample size and incomplete intervention description.
Discussion
This review found limited and incompletely described evidence testing the use of postnatal group-based interventions to improve health outcomes in HICs. Promising results were reported when the obstacles of sample size and group attendance were overcome. Studies reporting positive impacts on primary outcomes reported higher attendance rates and involved a psychoeducational or cognitive behavioural component in their group approaches. Further research should design and evaluate implementation strategies, assess the use of lay support workers in community settings to improve attendance and retention, and examine the effect of the group environment on outcomes.