01.12.2018 | Research article | Ausgabe 1/2018 Open Access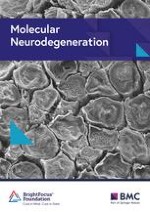 Counteracting roles of MHCI and CD8+ T cells in the peripheral and central nervous system of ALS SOD1G93A mice
Zeitschrift:
Autoren:

Giovanni Nardo, Maria Chiara Trolese, Mattia Verderio, Alessandro Mariani, Massimiliano de Paola, Nilo Riva, Giorgia Dina, Nicolò Panini, Eugenio Erba, Angelo Quattrini, Caterina Bendotti
Wichtige Hinweise
Electronic supplementary material
Giovanni Nardo and Maria Chiara Trolese contributed equally to this work.
Abstract
Background
The major histocompatibility complex I (MHCI) is a key molecule for the interaction of mononucleated cells with CD8+T lymphocytes. We previously showed that MHCI is upregulated in the spinal cord microglia and motor axons of transgenic SOD1G93A mice.
Methods
To assess the role of MHCI in the disease, we examined transgenic SOD1G93A mice crossbred with β2 microglobulin-deficient mice, which express little if any MHCI on the cell surface and are defective for CD8+ T cells.
Results
The lack of MHCI and CD8+ T cells in the sciatic nerve affects the motor axon stability, anticipating the muscle atrophy and the disease onset. In contrast, MHCI depletion in resident microglia and the lack of CD8+ T cell infiltration in the spinal cord protect the cervical motor neurons delaying the paralysis of forelimbs and prolonging the survival of SOD1G93A mice.
Conclusions
We provided straightforward evidence for a dual role of MHCI in the peripheral nervous system (PNS) compared to the CNS, pointing out regional and temporal differences in the clinical responses of ALS mice. These findings offer a possible explanation for the failure of systemic immunomodulatory treatments and suggest new potential strategies to prevent the progression of ALS.